Home
The most luxurious tree house. Boeing 727 House. The Contemporary Hillside House. The Contemporary Hillside House by SB Architects Designed by San Francisco-based SB Architects, an international firm well-known for the design of site-sensitive resort and mixed-use projects around the world, and built by well-known green builder McDonald Construction & Development, this home is a statement of what is possible combining "high design with high sustainability."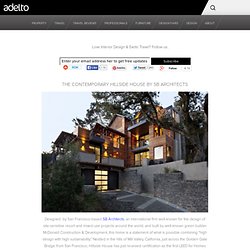 Nestled in the hills of Mill Valley, California, just across the Golden Gate Bridge from San Francisco, Hillside House has just received certification as the first LEED for Homes Platinum custom home in Marin County, and one of only a handful in Northern California. Photograpghy by Mariko Reed. The four-story home – clad with beautiful, sustainable Western Red Cedar siding – is set on a steep hillside site that provides for a very vertical design with living and private zones situated on multiple separate floors. HomePortfolio. GreenGrassDesign.com.
Design your home in 3D. 10 Foot Wide Home for $849,000? Located in the heart of Cole Valley, a small neighborhood in San Francisco, California, this two-story contemporary home was built in 2004.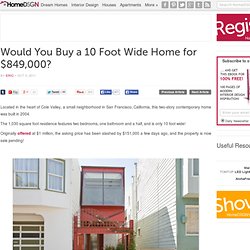 The 1,030 square foot residence features two bedrooms, one bathroom and a half, and is only 10 foot wide! Originally offered at $1 million, the asking price has been slashed by $151,000 a few days ago, and the property is now sale pending! Photos courtesy of Sotheby's International Realty Source: Sotheby's International Realty. Fairy Tale Cottages.
Okay here is something different.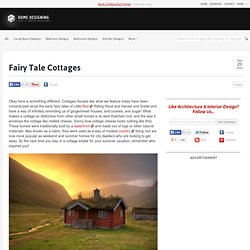 Cottages houses like what we feature today have been romanticized since the early fairy tales of Little Red Riding Hood and Hansel and Gretel and have a way of infinitely reminding us of gingerbread houses, and cookies, and sugar! What makes a cottage so distinctive from other small homes is its dark thatched roof, and the way it envelops the cottage like melted cheese. (funny how cottage cheese looks nothing like this) These homes were traditionally built by a waterfront and made out of logs or other natural materials. PLACE houses. Birdhouse-Shaped Hut for Humans. Tree house meets bird house, with a dash of hammock thrown into the mix.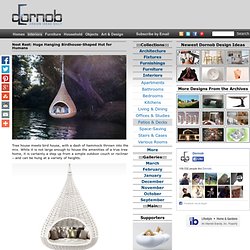 While it is not large enough to house the amenities of a true tree home, it is certainly a step up from a simple outdoor couch or recliner – and can be hung at a variety of heights. The resemblance goes more than skin deep, with a woven wood-like structure that parallels the way in which nests are built in nature. ? The result is a semi-enclosed, seclusion-granting space to relax that nonetheless breathes (though, to do so, sacrifices potential rain protection).
---