Festival Lineups
Manifest2013 | a co-creative gathering of positive energies. Pat Metheny Tour Dates. 22nd Rocky Mt Folks Festival | Aug. 17-19, 2012 in Lyons, CO. Tickets for the 24th Annual Rocky Mountain Folks Festival (August 15-17, 2014) are onsale now at shop.bluegrass.com or 800-624-2422.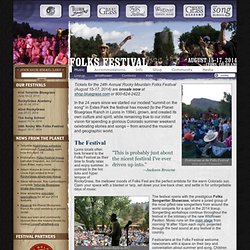 In the 24 years since we started our modest "summit on the song" in Estes Park the festival has moved (to the Planet Bluegrass Ranch in Lyons in 1994), grown, and created its own culture and spirit, while remaining true to our initial vision for spending a glorious Colorado summer weekend celebrating stories and songs -- from around the musical and geographic world. The Festival "This is probably just about the nicest festival I've ever driven up into. " —Jackson Browne. 39th Telluride Bluegrass Festival | June 21-24, 2012 in Telluride, CO. Tickets and camping for the 2014 Telluride Bluegrass are onsale now at shop.bluegrass.com or 800-624-2422.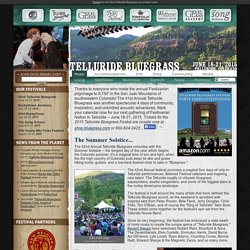 Don't wait much longer to make your plans for the 41st Annual pilgrimage to 8,750' in the San Juan Mountains of southwestern Colorado for 4 days of community, inspiration, and unbridled acoustic adventures -- June 19-22, 2014... The Summer Solstice... The 41st Annual Telluride Bluegrass coincides with the Summer Solstice -- the longest day of the year which begins the Colorado summer. 2012 Sasquatch Music Festival! - Lineup.
---