Festival Lineups
manifest2013 | a co-creative gathering of positive energies
Pat Metheny Tour Dates
2012 Line-Up | Denver Day of Rock
22nd Rocky Mt Folks Festival | Aug. 17-19, 2012 in Lyons, CO
With the announcement of Loreena McKennitt, John Butler Trio, Patty Griffin, Colin Meloy, and many more to the 2013 Folks Festival lineup, tickets and camping continue to sell at a record pace. Get your 3-day passes and camping right now... In the 23 years since we started our modest "summit on the song" in Estes Park the festival has moved (to the Planet Bluegrass Ranch in Lyons), grown, and created its own culture and spirit, while remaining true to our initial vision for spending a glorious Colorado summer weekend celebrating stories and songs - from around the musical and geographic world. The Festival Lyons locals often look forward to the Folks Festival as their time to finally relax and enjoy summer.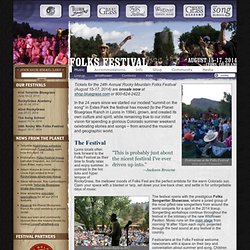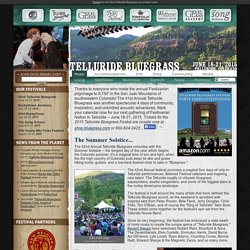 For 40 years Festivarian Nation has made the annual pilgrimage to 8,750' in the San Juan Mountains of southwestern Colorado for 4 days of community, inspiration, and unbridled acoustic adventures. Tickets for this historic 40th anniversary celebration are now completely sold-out , with 4-day passes selling-out in under 4 hours back on December 5. If you already purchased your tickets, camping may still be available - but don't wait much longer... The Summer Solstice...
39th Telluride Bluegrass Festival | June 21-24, 2012 in Telluride, CO
Music | Lightning in a Bottle
2012 Sasquatch Music Festival! - Lineup
ZZ Ward makes music with its own nickname: Dirty Shine. As she explains: "What dirty shine means to me, personally, was the moment I stopped thinking about what people were gonna think about my music, and I just accepted who I was and what my sound was," Ward says. "It's about embracing your authentic self, doing what makes you happy and committing to it.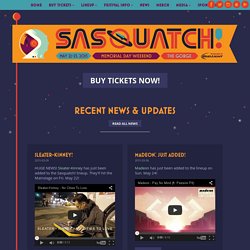 Festival 2012 | ELBJAZZ Festival