Pizza/ Bread
Get flash to fully experience Pearltrees
Kids can be frustratingly picky eaters. They can also have highly entertaining quirks. My niece used to ask for pepperoni pizza and then proceed to discard all of the pepperoni. But don't you dare suggest that she order plain cheese pizza!
I think almost everyone knows about the tiny little franks wrapped in crescent rolls. Pigs in a blanket are good, don't get me wrong, but sometimes I find them lacking in the flavor department. Luckily, with just a few extra ingredients, we can spice them up and infuse them with some delicious buffalo and blue cheese flavors. My Buffalo in a Blanket appetizer will be a crowd pleaser at any party you take it to!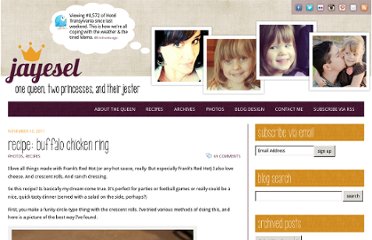 I love all things made with Frank's Red Hot (or any hot sauce, really. But especially Frank's Red Hot) I also love cheese. And crescent rolls.
I once made the driest pancake in the world. I can see you sitting at home, staring at your computer screen, and scoffing at my bold statement. Driest pancake in the world? Yeah, right. How would you even know? But this is the truth, my friends.