Google-Chrome
Evernote Clearly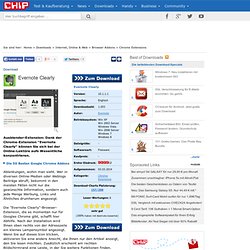 Ablenkungen, wohin man sieht. Wer in diversen Online-Medien oder Weblogs Beiträge abruft, bekommt in den meisten Fällen nicht nur die gewünschte Information, sondern auch jede Menge Werbung, Links und Ähnliches drumherum angezeigt. Die "Evernote Clearly"-Browser-Extension, die es momentan nur für Googles Chrome gibt, schafft hier Abhilfe.
Todoist: To-Do list and Task Manager
Chrome Web Store
ToodleChrome
Manage your tasks and todo lists! Get quick access to Toodledo, with the option to show a badge indicating tasks due A simple extension for Toodledo. Quickly loads the "mobile," "slim" or "mini" version of the web-based Toodledo todo list application in an extension popup. Included is an option to show a numeric badge with the toolbar icon, indicating how many tasks you have due. This feature uses your Toodledo RSS feed.
Organize Your Tasks. Use folders, tags, contexts, subtasks and more to organize, search and sort through your tasks. Improve Your Productivity. Toodledo's hotlist, customizable alarms, and sortable online to-do list will help you remember to complete tasks on-time. Go Anywhere. Get Toodledo on your mobile phone, in your email, on your calendar, integrated directly into your web browser, and more.