Philosophie
Goal-setting research on fantasising, visualisation, goal commitment, procrastination, the dark side of goal-setting and more... We're all familiar with the nuts and bolts of goal-setting. We should set specific, challenging goals, use rewards, record progress and make public commitments (if you're not familiar with these then check out this article on how to reach life goals ).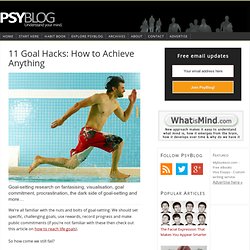 The Four Agreements Summary by Don Miguel Ruiz The Four Agreements: A Practical Guide to Personal Freedom (A Toltec Wisdom Book) by Don Miguel Ruiz is one of the classic personal development books for all walks of life. For those of you who have never read this short, yet provocative book on how to live life with integrity , I highly suggest it. There's a lot more in the book than just 4 statements of course, so it's still imperative to read it if you haven't. This article is simply a quick summary and reminder for those who have, and hell let's be honest — I want to remind myself too.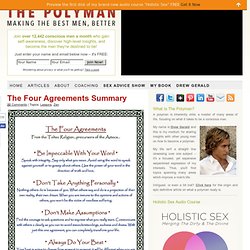 The Four Agreements Summary | The Polyman
Email When we were young life was easier, right? I know sometimes it seems that way.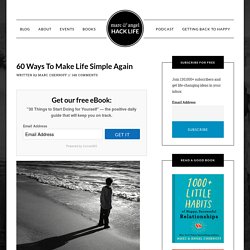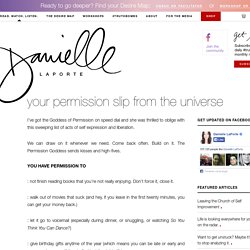 I've got the Goddess of Permission on speed dial and she was thrilled to oblige with this sweeping list of acts of self expression and liberation. We can draw on it whenever we need. Come back often. Build on it.
your permission slip from the universe | White Hot Truth: because self-realization rocks.
verse 57 if you want to be a great leader you must learn to follow the tao stop trying to control let go of fixed plans and concepts and the world will govern itself the more prohibitions you have the less virtuous people will be the more weapons you have the less secure people will be the more subsidies you have the less self-reliant people will be therefore the master says: i let go of the law and people become honest i let go of economics and people become prosperous i let go of religion and people become serene i let go of all desire for the common good and the good becomes common as grass
tao te ching @ mattpaul.org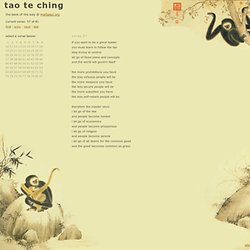 Words
Have you ever wished you could go back in time and have a conversation with one of the greatest minds in history? Well, you can't sorry, they're dead. Unless of course you're clairaudient, be my guest. But for the rest of us, we can still refer to the words they left behind. Even though these great teachers have passed on, their words still live, and in them their wisdom.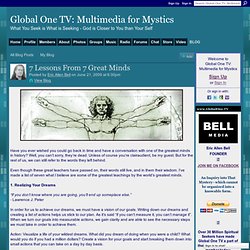 Lalita Tripurasundari, the Red Goddess
Dear One, Tripura is the ultimate, primordial Shakti, the light of manifestation. She, the pile of letters of the alphabet, gave birth to the three worlds. At dissolution, She is the abode of all tattvas, still remaining Herself - Vamakeshvaratantra What is Shri Vidya and what relationship does it have to the goddess Lalita and to her yantra, the Shri Yantra? Vidya means knowledge, specifically female knowledge, or the goddess, and in this context relates to her aspect called Shri, Lalita or Tripurasundari whose magical diagram is called the Shri Yantra.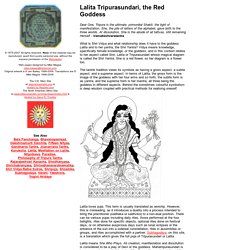 The Egg By: Andy Weir You were on your way home when you died.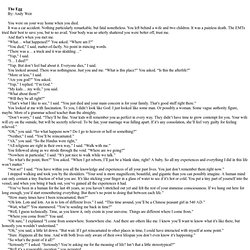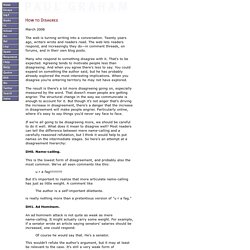 March 2008 The web is turning writing into a conversation. Twenty years ago, writers wrote and readers read.