Sites de graphistes
Site Web de Ravenman. Bienvenue sur www.ravenmanlesite.com !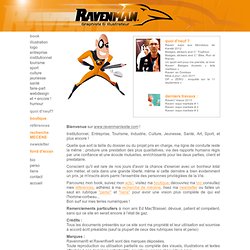 Institutionnel, Entreprise, Tourisme, Industrie, Culture, Jeunesse, Santé, Art, Sport, et plus encore ! Quelle que soit la taille du dossier ou du projet pris en charge, ma ligne de conduite reste la même : produire une prestation des plus qualitatives, via des rapports humains régis par une confiance et une écoute mutuelles, enrichissants pour les deux parties, client et prestataire. Conscient qu'il est rare de nos jours d'avoir la chance d'exercer avec un bonheur total son métier, et cela dans une grande liberté, même si cette dernière a bien évidemment un prix, je m'inscris alors parmi l'ensemble des personnes privilégiées de la Vie.
Parcourez mon book, suivez mon actu', visitez ma boutique, découvrez ma bio',consultez mes références, adhérez à ma recherche de mécène, lisez ma newsletter ou faites un saut en rubrique "perso" et "liens" pour avoir une vision plus complète de qui est l'homme-corbeau... Bon surf sur mes terres numériques ! Portfolio graphiste webdesigner Lyon. Pix & Doc's. Gilles Miquelis, Artiste contemporain, création du site internet, SOLARI conseil en communication et publicité à Nice. Christine Soyez, graphiste free-lance. Paris vs New York, a tally of two cities. La Marelle Editions : cadeaux originaux et objets décoratifs. The Art and Illustration of Kevin Dart. In The Works | LunaBlogs. INSTALLATION Genocide.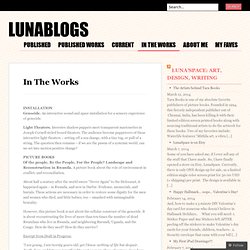 An interactive sound and space installation for a sensory experience of genocide. Light Theaters. Inversive shadow puppets meet transparent marionettes in Joseph Cornell styled boxed theaters. The audience become puppeteers of these interactive light theaters – setting off a sea change, with a tiny tug, or pull of a string. The question then remains – if we are the pawns of a systemic world, can we set into motion positive change? Urbanitude :: Agence de communication urbaine Lyon :: IDentité ! SiteTS.swf (application/x-shockwave-flash Object) VD Graphics Accueil.
---