Artsy Simulations
Get flash to fully experience Pearltrees
Imagination - Play with beautiful wobbly lines
PlasmaTree
thisissand.com
Silk
pallo
imagination.swf (application/x-shockwave-flash Object)
Create - Picassohead
doodleBug - oodles of doodles
Color Scheme Designer 3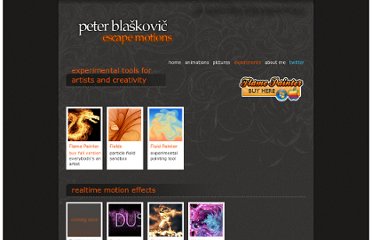 This is my experimental research in field of art, graphics, math, physics... I have fun to mix different subjects together and finding a new ways of expression.
peter blaskovic | escape motions
ertdfgcvb
Grant Kot
ARSE i Am
solaas.com.ar
Orbitals, linear | Gallery of Computation
The Orbitals is a collection of particles operating on one simple rule: choose another particle in the system and orbit it with a fixed radius at a constant velocity.
complex interactions of simple agents