Tools
For a hobby that revolves around dead people, genealogy is remarkably popular: it's the fastest growing scene in North America. And a perfect study for Vertigo's latest exercise: an exploration of Microsoft's latest UI technology, Windows Presentation Foundation (WPF). Technology + Genealogy = Two –ologies!
Family.Show
Topstyle lite
WCKER - Wizard Construction Kit Extension for Reload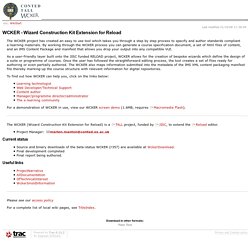 The WCKER project has created an easy to use tool which takes you through a step by step process to specify and author standards compliant e-learning materials. By working through the WCKER process you can generate a course specification document, a set of html files of content, and an IMS Content Package and manifest that allows you drop your output into any compatible VLE. As a user-friendly layer built onto the JISC funded RELOAD project, WCKER allows for the creation of bespoke wizards which define the design of a suite or programme of courses.
Transmaere -- onderwijsterminologie
Nieuws [ Google introduceert stilletjes gezichtsherkenning ]
allardstrijker's favorites on del.icio.us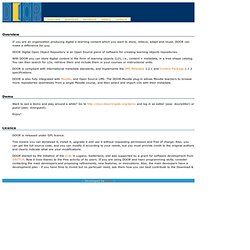 DOOR
Overview If you are an organization producing digital e-learning content which you want to store, retieve, adapt and reuse, DOOR can make a difference for you. DOOR Digital Open Object Repository is an Open Source piece of software for creating learning objects repositories. With DOOR you can store digital content in the form of learning objects (LO), i.e., content + metadata, in a tree-shape catalog. You can then search for LOs, retrieve them and include them in your courses or instructional units.