Moss2007
Customizing List Views with XSLT Transformations in SharePoint Designer 2007. Data stored in a Windows SharePoint Services 3.0 list can be presented in more ways than a simple tabular layout.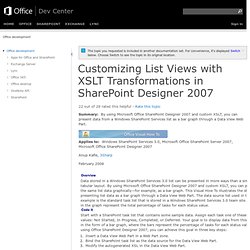 By using Microsoft Office SharePoint Designer 2007 and custom XSLT, you can present the same list data graphically—for example, as a bar graph. This Visual How To illustrates the steps for presenting list data as a bar graph through a Data View Web Part. Microsoft SharePoint Designer Team Blog : Putting the SharePoint in SharePoint Designer. For those of you who have been with us for the long haul, you know SharePoint Designer (SPD) evolved from the FrontPage product.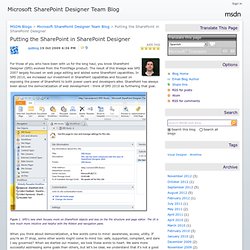 The result of this lineage was SPD 2007 largely focused on web page editing and added some SharePoint capabilities. In SPD 2010, we increased our investment in SharePoint capabilities and focused on exposing the power of SharePoint to both power users and developers alike. SharePoint has always been about the democratization of web development - think of SPD 2010 as furthering that goal. Figure 1. Add a built-in form action to a Data View - SharePoint Designer - Microsoft Office Online. After you add form functionality to a Data View, you can quickly add a few simple built-in form actions to enable your customers to do things like save changes made in the form, cancel changes, and even return back to the Data View from which the customer opened the form.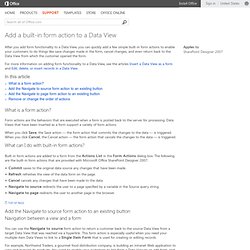 For more information on adding form functionality to a Data View, see the articles Insert a Data View as a form and Edit, delete, or insert records in a Data View. In this article What is a form action? Form actions are the behaviors that are executed when a form is posted back to the server for processing. Showcase: SharePoint in Plain English. Overview Video. SharePoint Online With Office 365, SharePoint offers enhanced security technologies, is easy to manage, and can be accessed from almost anywhere.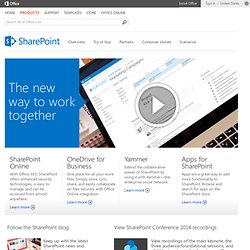 OneDrive for Business. Mijnbasisschool.nl. Learning Point. Introductiepagina - Expeditie Corlaer. Download details: Ten Themes for SharePoint. Provisioning Content Query Web Part querying subsites in a structured and repeatable way. Today, while working on a brand new SharePoint Web Content Management (WCM) solution, I've faced quite a challenge: I needed to provision a Content Query Web Part (CQWP) which would query subsites of the current site using a custom Site Definition.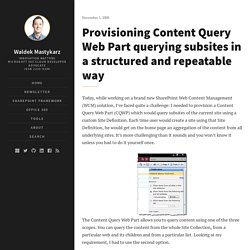 Each time user would create a site using that Site Definition, he would get on the home page an aggregation of the content from all underlying sites. It's more challenging than it sounds and you won't know it unless you had to do it yourself once. The Content Query Web Part allows you to query content using one of the three scopes. Content Query Web Part. Jun 24 When building content aggregations using the Content Query Web Part (CQWP) there are often situations when you need to wrap the results of the aggregation in some additional markup.
Find out how to wrap the contents of a CQWP in additional markup. Read more » Jun 20. Content Query Web Part vs. Custom Aggregation Web Part. During the Office Developer Conference 2008 I have attended a great presentation on high performance SharePoint 2007 solutions by Andrew Connell.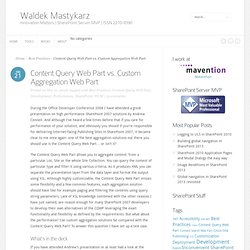 And although I've heard a few times before that if you care for performance of your solution, and obviously you should if you're responsible for delivering Internet-facing Publishing Sites in SharePoint 2007, it became clear to me once again: one of the best aggregation solutions out there you should use is the Content Query Web Part… or isn't it? The Content Query Web Part allows you to aggregate content: from a particular List, Site or the whole Site Collection. You can query the content of particular type and filter it using various criteria. As it produces XML you can separate the presentation layer from the data layer and format the output using XSL. Copying over a SharePoint list from source site to destination site | Sahil Malik - blah.winsmarts.com. As I just blogged about finding items within a given folder, the same concept can then be enhanced to copy over an entire list with folders and items, to another list of the same structure.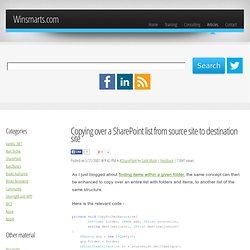 Here is the relevant code - private void CopyFolderRecursive( Microsoft SharePoint Team Blog : "ChatterBox" persistent chat session for SharePoint. SharePoint Online With Office 365, SharePoint offers enhanced security technologies, is easy to manage, and can be accessed from almost anywhere.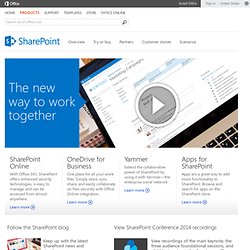 OneDrive for Business One place for all your work files. LearnCSharp.com - Visual C# Training and Tutorials ON VIDEO, Visual C# Video Training, Free Visual C# Videos. What format is this course in?
This course is a video training course in standard .AVI format. After purchasing this course, you will be able to immediately download the entire course (all chapters and all exercises/files). SharePoint Products Catalog, SharePoint web part solutions - KWizCom.com. Offline Product Finder Wiki Plus True, SharePoint-based Enterprise Wiki solution,available for SharePoint 2007/WSS and SharePoint 2010/2013 Foundation and Server !
Notifications Feature. SharePoint 2007. SharePoint and Cascading Style Sheets: How to update, change and reference. One of the more powerful tools in user interface (UI) customization is cascading style sheets (CSS). CSS allows you to control the display of numerous items from one central location or central group of files. Through a series of selectors and corresponding declarations, the display of nearly any item can be modified on screen. Know CSS? Home - SURFgroepen. Sakai in de ijskast - UT Nieuws - weekblad van de Universiteit Twente. Maarten van Rossem deed gisteren, dinsdag 15 april, de UT aan om in een tjokvolle Agora te spreken over humor in Amerika.
In een vooral geïmproviseerde lezing wist van Rossem de zaal te boeien met zijn gebruikelijke ingrediënten: een cynische maar tegelijkertijd humoristische kijk op maatschappelijke elementen. Gezondheidswetenschappen bestaat tien jaar. Developing a Custom Web Part, Part 3. Free SharePoint DataView Tips - The Boiler Room - Mark Kruger, Microsoft SharePoint MVP. Media Player Web Part: Updated - Alex Pearce's Blog.
Templates, Tools and Web Packages. Response to "What the heck is Microsoft SharePoint 2007?" - Owen Allen - work and life unbalanced. Shane Perran's SharePoint Customization Blog » Blog Archive » Kickstart to editing styles in MOSS 2007. Before you begin: Download and install the Internet Explorer Developer Toolbar. This is a must have tool for SharePoint Customization.
The Internet Explorer Developer Toolbar (get it here FREE) You will also need your preferred text editor, if you don't have one, Notepad will do just fine. Download book about Deployment for Office Sharepoint Server 2007 - remcoploeg's blog. Home - Teletop Intranet. Home - Technology Class Website by Ms. Benning. The Boiler Room - Mark Kruger, SharePoint MVP : 2007 MOSS Resource Links (Microsoft Office SharePoint Server)
---