Moss
Microsoft SharePoint Team Blog : Announcing SharePoint 2010 Technical Preview. SharePoint Online With Office 365, SharePoint offers enhanced security technologies, is easy to manage, and can be accessed from almost anywhere.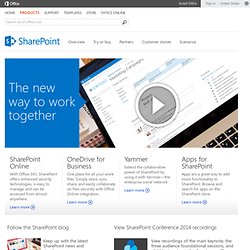 OneDrive for Business. Stefan Goßner : Deep Dive into the SharePoint Content Deployment and Migration API - Part 1. [Part 1 - Part 2 - Part 3 - Part 4 - Part 5 - Part 6 - Part 7] Introduction Today I would like to start an article series on an interesting new feature in WSS 3.0: the Content Deployment and Migration API.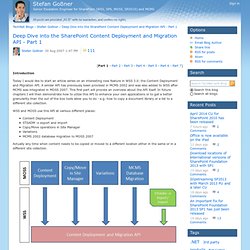 A similar API has previously been provided in MCMS 2002 and was also added to WSS after MCMS was integrated in MOSS 2007. Microsoft SharePoint "14" is now Microsoft SharePoint 2010. SharePoint Calendar, SharePoint Calendar Web Part : Mini Calendar Web Part : Sharepoint Mini Calendar : kwizcom.com. KWizCom SharePoint Calendar Plus is part of the Collaboration Bundle KWizCom SharePoint Calendar Plus is part of the Web Content Management Bundle KWizCom SharePoint Calendar Plus is part of the Project Management Bundle Events Rollup, Team Calendars, Mini-Calendars - All available in a single solution!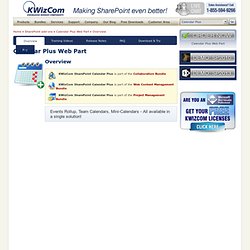 KWizCom SharePoint Calendar Plus web part connects to various sources and displays one consolidated view of all aggregated events. With the Calendar Plus web part you can roll-up events from the following sources: SharePoint Lists – retrieve events from any number of SharePoint lists of any type on any location.Microsoft Outlook Web Access (OWA) – you can and display each user's meetings/events or public/shared Outlook calendars on the same aggregated calendar view.Google Calendar – You can include events coming from Google Calendar in your Portal/Team calendars!
Manage lists and libraries with many items - Windows SharePoint Services - Microsoft Office Online. When a list or library has a large number of items, you must carefully plan its organization and how users need to access the data.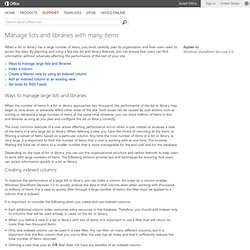 By planning and using a few key list and library features, you can ensure that users can find information without adversely affecting the performance of the rest of your site. Ways to manage large lists and libraries When the number of items in a list or library approaches two thousand, the performance of the list or library may begin to slow down or adversely affect other areas of the site. Such issues can be caused by user actions such as sorting or retrieving a large number of items at the same time.
Structured and repeatable configuration deployment in SharePoint 2007 the Imtech way. Configuration provisioning is very important in structured and repeatable deployment of SharePoint 2007 solutions.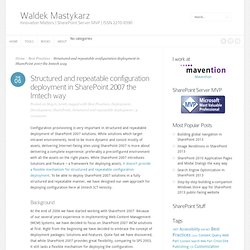 While solutions which target intranet environments, tend to be more dynamic and consist mostly of assets, delivering Internet-facing sites using SharePoint 2007 is more about delivering a complete experience: preferably a preconfigured environment with all the assets on the right places. While SharePoint 2007 introduces Solutions and Feature – a framework for deploying assets, it doesn't provide a flexible mechanism for structured and repeatable configuration deployment.
To be able to deploy SharePoint 2007 solutions in a fully structured and repeatable manner, we have designed our own approach for deploying configuration here at Imtech ICT Velocity.
---