Conversion
Gratis online file converter. Media download Firefox extension. If you are running Windows, please ignore this page and follow this link.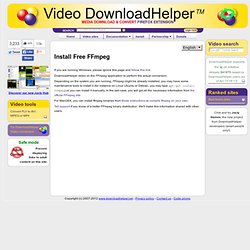 DownloadHelper relies on the FFmpeg application to perform the actual conversion. Depending on the system you are running, FFmpeg might be already installed, you may have some maintenance tools to install it (for instance on Linux Ubuntu or Debian, you may type apt-get install ffmpeg) or you can install it manually. In the last case, you will get all the necessary information from the official FFmpeg site.
For MacOSX, you can install ffmpeg binaries from those instructions or compile ffmpeg on your own. Tell support if you know of a better FFmpeg binary distribution. PowerToys for Windows XP. Converting YouTube FLVs (Flash Videos) to a Better Format with ffmpeg. In the few previous posts we have been downloading YouTube videos with Awk and Perl.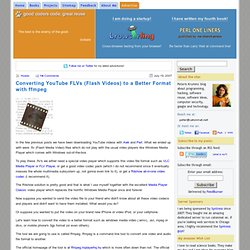 What we ended up with were .flv (Flash Media Video) files which do not play with the usual video players like Windows Media Player which comes with Windows out-of-the-box. To play these .flv's we either need a special video player which supports this video file format such as VLC Media Player or FLV Player, or get a good video codec pack (which I do not recommend since it eventually messes the whole multimedia subsystem up, not gonna even link to it), or get a ffdshow all-in-one video codec (I recommend it). SUPER © . Other "popular" freeware Most of the available Multimedia encoders freewares on the market are copied between them and have all the same presentation look, interface and options.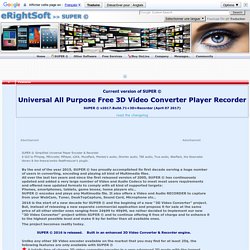 The brand name changes but not the content. One could think they all bought the same source code and they distribute it here and there on their own ! This one example of a popular freeware, strong of a large marketing campaign claiming to "encode ALL to ALL", proposes only 3 Video codecs and 3 Audio Codecs to output an MKV format. LiveCom & AtoBE introduceren MSN chatkoppeling voor zakelijk gebruik. Chatontwikkelaar LiveCom en Interactive Solutions Provider AtoBE komen deze week met een koppeling naar MSN Messenger voor de business chat.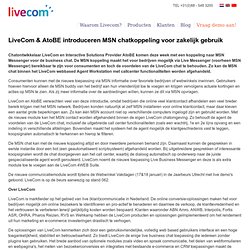 De MSN koppeling maakt het voor bedrijven mogelijk via Live Messenger (voorheen MSN Messenger) bereikbaar te zijn voor consumenten en toch de voordelen van de LiveCom chat te behouden. Zo kan de MSN chat binnen het LiveCom webbased Agent Workstation met callcenter functionaliteiten worden afgehandeld.
---