Code
Javascript image zoom. MooTools 1.2 JavaScript image zoom Thursday, October 30th, 2008 in Mootools This image zoom script is developed having as inspiration the similar type of image zoom created in flash that usually displays a small thumbnail showing the region zoomed on it and a bigger image that displays the region showed on the thumbnail.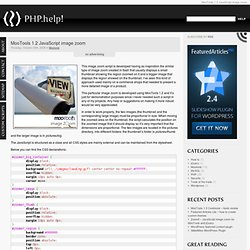 Dublin Core Generator. News from the Dublin Core Metadata Initiative DCMI names Advisory Board inaugural Chair and Chair-Elect 2013-12-04, DCMI is pleased to announce that Marcia Zeng has been elected as inaugural Chair of its Advisory Board and Joseph Busch as Chair-Elect.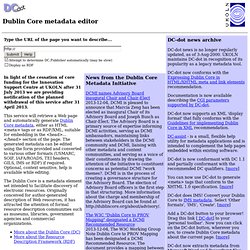 The Advisory Board is a primary source of expertise informing DCMI activities, serving as DCMI ambassadors, maintaining links between stakeholders in the DCMI community and DCMI, liaising with other metadata and content communities, and serving as a voice of their constituents by drawing the attention of the Initiative to constituent concerns as potential DCMI ?
Work themes?. SharePoint 2007 Flash Animation Web Part. Free source code and programming help. Download source file - 1.1 KB Introduction I've seen that many people are using HTML content web part for displaying Flash animation.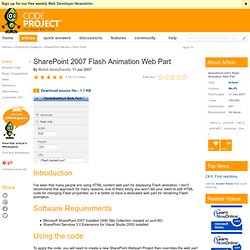 I don't recommend this approach for many reasons, one of them being you won't tell your client to edit HTML code for changing Flash properties; so it is better to have a dedicated web part for rendering Flash animation. Software Requirements.
---