Cloud
Nieuwe Windows HPC Server werkt samen met Linux - Techworld. Nebula. Google Fusion Tables. Posted by Alon Halevy, Google Research and Rebecca Shapley, User Experience Database systems are notorious for being hard to use.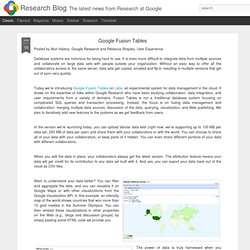 It is even more difficult to integrate data from multiple sources and collaborate on large data sets with people outside your organization. 2009 Horizon Report » Technologies to Watch. The technologies featured in the 2009 Horizon Report are placed along three adoption horizons that represent what the Advisory Board considers likely timeframes for their entrance into mainstream use for teaching, learning, research, or creative applications.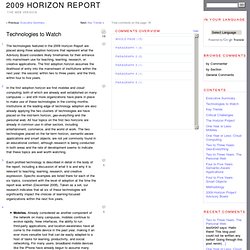 The first adoption horizon assumes the likelihood of entry into the mainstream of institutions within the next year; the second, within two to three years; and the third, within four to five years. In the first adoption horizon we find mobiles and cloud computing, both of which are already well established on many campuses — and still more organizations have plans in place to make use of these technologies in the coming months. Institutions at the leading edge of technology adoption are also already applying the two clusters of technologies we have placed on the mid-term horizon, geo-everything and the personal web.
---