Authoring
Learning and training WebTV software for professionals - Datpresenter
I think Courselab is an excellent, simple to use tool for people with training and instructional design expertise but with limited technical skills. It contains, in a free package, the majority of functionality that an instructional designer could want in creating simple e-learning courses. The interface is intuitive and easy to learn how to use.<br><br>As you might expect there are some compromises - you don't have total freedom of design and functionality built in - but then it would no be so easy to use.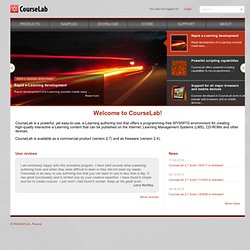 eLML - eLesson Markup Language | Get eLML - eLesson Markup Language at SourceForge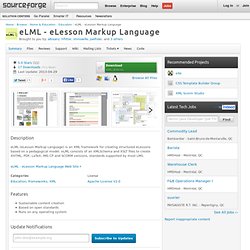 ★ 4.3 Stars (22) 15 Downloads (This Week) Last Update:
Well eXe 1.0 has ticked over with a dignified click. We are happy to announce that 1.0 has been unleashed in a low key sort of way. The Auckland based team will celebrate over a glass or two of good Kiwi wine tonight with Wayne who serendipitously is arriving back in Auckland this evening. We'll have a virtual glass with our Gisborne based crew, in fact if Brent brings his N800 we might even video call you in on celebrations tonight. We have many people to thank for their contributions, first and foremost our developers without whom none of this would have been possible, David, Wen Chen Hol, Brent, Jenny, Matthew, Jim and Remo.
eXe Blog