Assessment
WAD - Web Assignment Database. The WAD is created in the multinational project 'Innovative Didactics via Web Based Learning (IDWBL)'.
This is a project run by a consortium consisting of teacher trainers and researchers from Bulgaria, Lithuania, Netherlands, Poland and the Slovak republic. The WAD allows teachers to develop and retrieve web-based assignments for teaching and learning in several subject areas. Teachers and learners who are registered as users have access to a whole range of functionalities, such as: adapting assignments, allocating assignments to students, create a learner products, feedback on assignments developed by colleagues and rating of learner's products. Non-registered users can access the assignments that are in the public domain here . Intro Open Ed Syllabus - OpenContent Wiki. INST 7150 Introduction to Open Education, Fall 2007 Participants Please use the "edit" link to the right to list your name, school, email, and blog below.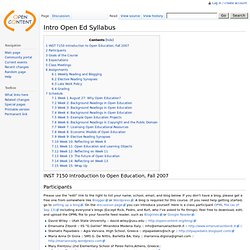 If you don't have a blog, please get a free one from somewhere like Blogger or Wordpress. CirkelAnalyse | de 360 graden feedbacktool voor competentiemanagement binnen het onderwijs.