Teaching - the profession
Get flash to fully experience Pearltrees
The following HTML text is provided to enhance online readability. Many aspects of typography translate only awkwardly to HTML. Please use the page image as the authoritative form to ensure accuracy.
We eLearning developers are used to the question, "Which is better, eLearning or classroom instruction?" The answer is, "It depends." It's the same answer if one asks, "Which are better, multiple-choice or essay questions?" Either question type is useful for assessing a variety of levels of thinking, depending on how well the designer crafts the questions. Designing multiple-choice questions is not as daunting a task as one might think.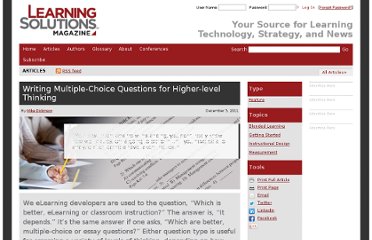 The Meyer and Land Threshold Concept Over the past eight years this concept has been embraced by many disciplines outside economics; indeed the above quote is from Glynis Cousin's excellent short introduction to the concept written for earth scientists. The threshold concept has been seen as a valuable tool, not only in facilitating students' understanding of their subject, but in aiding the rational development of curricula in rapidly expanding arenas where there is a strong tendency to overload the curriculum (Cousin, [ 6 , 8 ]). This web page will describe, briefly, the characteristics of a threshold concept and list selected references to the work of those examining its value in a broad range of disciplines.