Mobilité en développement
Federation of Canadian Municipalities (FCM) Secretary General: Brock Carlton 24 Clarence Street Ottawa, Ontario K1N 5P3 Canada Tel +1 613 241 5221 Fax +1 613 241 7440 Email: info@fcm.ca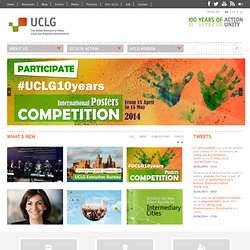 United Cities and Local Governments - Official Website
Dear members, partners and friends of Cities for Mobility, we are happy to announce the 7th International Congress of the network which will take place on 1-3 June 2014 in Stuttgart. Make sure to save the date now. More information on the congress will be available on our website end of January 2014. The Mayor of Stuttgart, Fritz Kuhn and the coordination team of Cities for Mobility are looking forward to welcoming you in Stuttgart next summer. Best wishes,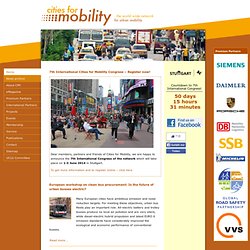 Cities for Mobility
UITP - International Association of Public Transport
UITP is the international network for public transport authorities and operators, policy decision-makers, scientific institutes and the public transport supply and service industry. It is a platform for worldwide cooperation, business development and the sharing of know-how between its 3,500 members from 92 countries. UITP is the global advocate of public transport and sustainable mobility, and the promoter of innovations in the sector. UITP and KMK organise an online press conference on 4 December.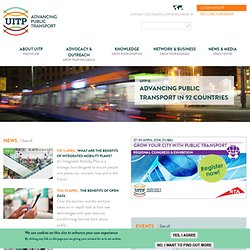 CODATU : Coopération pour le développement et l'amélioration des transports urbains et périurbains
ITDP | Institute for Transportation and Development Policy