Social Media
Book review: Social Media Engagement for Dummies » Trafcom News Blog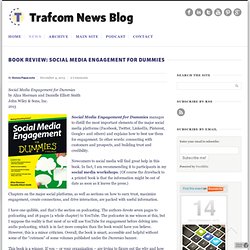 Social Media Engagement for Dummiesby Aliza Sherman and Danielle Elliott Smith John Wiley & Sons, Inc. 2013 Social Media Engagement for Dummies manages to distill the most important elements of the major social media platforms (Facebook, Twitter, LinkedIn, Pinterest, Google+ and others) and explains how to best use them for engagement.
Social Media for the Savvy Professional (with images, tweets) · alizasherman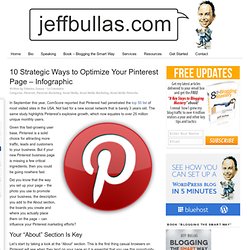 10 Strategic Ways to Optimize Your Pinterest Page - Infographic
In September this year, ComScore reported that Pinterest had penetrated the top 50 list of most visited sites in the USA.
ErinMargolin : Dear @alizasherman &
Savvy Social Engage: NYC June 26 Tickets, New York - Eventbrite Aliza and Danielle have partnered with The League of Extraordinary Coworking Spaces (LEXC, for short), the Wine Sisterhood and Cabot Cheese to present "5 Steps to Social Savvy" at cutting-edge coworking spaces.
Benjamin's Desk | Event: Savvy Social Engage: Philly
Social Media Engagement For Dummies (For Dummies (Business & Personal Finance)): Aliza Sherman, Danielle Elliott Smith: 9781118530191: Amazon.com
1. A Relevant Audience Thanks To 'Negative Keyword Targeting'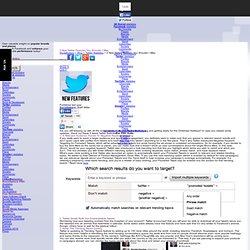 5 New Twitter Features You Shouldn´t Miss
Facebook CEO Mark Zuckerberg unveils Graph Search during an event at the company's headquarters. (Credit: James Martin/CNET)
Facebook might make money from its search tool, analysts say | Internet & Media
'It's About Time': Facebook Reveals New Search Feature : All Tech Considered
Facebook CEO Mark Zuckerberg speaks at Facebook headquarters in Menlo Park, Calif., on Tuesday.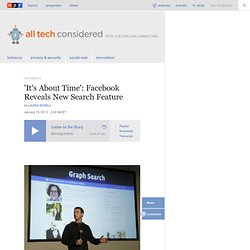 Facebook Twitter Google+ Save E-mail Share Print
Instagram Flap Shows Confusion Over Control of Content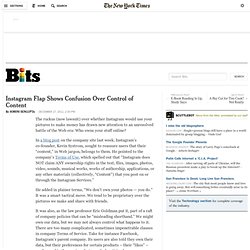 In my Shop Talk Video this week I mention that I am going on a Social Media Diet and I ask you to join me. If you haven't watched the video yet, please do, lots of people have already commented and are participating too. We are turning Social Media into the same type of spray and pray marketing that did not work in the 90′s and in the process, we are losing the true value of using social – relationships and reporting.
7 Simple Ways to Jumpstart Your LinkedIn Account – Lisa Larter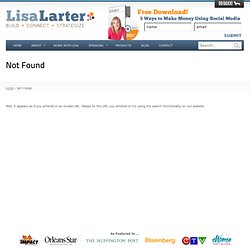 How 'Half the Sky' used social TV to fight oppression against women
Facebook 'Page Post Targeting': Great Opportunity, at a Cost
Facebook's "Page Post Targeting Enhanced" feature may not have a catchy name, but it's certainly getting people excited. Available to some pages as of the beginning of August and rolling out to all pages over the next few weeks, it's Facebook's most significant update for brands since its IPO back in May.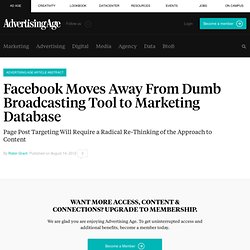 Instagram 3.0 Bets Big On Geolocation With Photo Maps, Letting You Showcase The Story Behind Your Photos
You won't find any new filters in the latest version of Instagram . Instead, the fourteen person team behind the world's most beloved mobile app (now 80 million registered users strong) has decided to think outside the box, the browser box. "With every dot oh release we've tried to shift our focus dramatically," Instagram CEO Kevin Systrom tells me in one of the longest interviews I've ever conducted about a UI change , "Instagram 2.0, with its new filters, etc, was all about the user's production experience.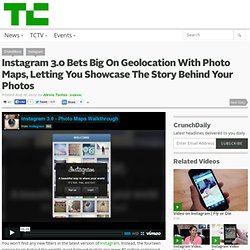 Photo by alizasherman
Pinterest is growing like crazy , so I thought I'd write a series on everything Pinterest. This four-part series can help marketers determine whether Pinterest should be added to their social media lineup, as well as help existing Pinners hone their skills. With every popular social network comes a wave of tools designed to help maximize your user experience. Here is a list of 12 tools that can help streamline your Pinterest workflow and enhance your pinning efforts. 1. Pin a Quote turns a text quote into something you can pin.
12 Pinterest Tools You'll Want to Use
am
10 Non-Profits Leveraging Pinterest for Social Good
There's no question that Pinterest is the hottest social network right now. From your friends and family to celebrities, athletes and designers, everyone's pinning visually interesting content. But did you know that non-profit organizations are pinning, too? Non-profits, like other companies and brands, are flocking to Pinterest and utilizing its features to gain exposure. They want to show supporters more about their missions and how their work makes a difference in the world. We found ten non-profits that are particularly awesome at pinning.
KLM Surprise
Revenue Growth Via Social Tools
Do you speak "social?" There is a lot of writing out there about the effects of social media on business, marketing, branding and customer services. But what about how social media communications is impacting our written communications, or even our oral communications?
How Social Media is Affecting the Way We Speak and Write — Online Collaboration
Jonathan Gardner is director of communications at ad company Vibrant Media . He has spent nearly two decades as an innovator at the nexus of media and technology, having worked in communications leadership roles and as a journalist around the world. The egg nog's been drunk, the bells are done jingling, and the mistletoe has been taken down.
The Power of Lists and Collected Resources for Social Media Marketing
Recording Information
Sparboe Update
Infographic: When do people share on social media?
The Secret Sauce – Free Advice for Ragu
CHART OF THE DAY: How Many Users Does Twitter REALLY Have?
How Crowdsourcing Helps Achieve Business Goals & Develop... - Eventbrite
Inside social media at Delta Air Lines -- a behind the scenes look
Smart Ways to Use Future Tech & Social Media
Thinking About Social Mobile Wine Apps « Conversify
Looking For Social Media Experts ...
Looking for influencers? Tools are not enough. - Digital Ingredients
The year of Social Media 2010
Yahoo Shutting Down Delicious, Buzz, Other Services
Facebook Meets Charity - Live Discussions
10 Things I Learned About Facebook in 2010
The Oldest Social Gesture: The Handshake « The Nimble Blog
Paula Berg: Turning Lemons into Lemonade: 11 Components of a Social Media Crisis Plan