Social Media
7 Ways to Get More Meaning Out of Your Social Media. We're living in a social media laden world.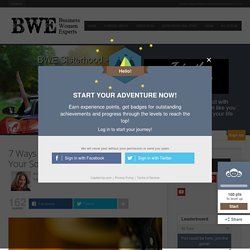 Our days are filled with never-ending waves of content – text messages, news feeds, app notifications, Twitter streams, Instagram uploads, videos in our email. How do you get past the information overload – both consuming it and creating it – and return to making real connections for your business? Here are 7 ideas for recalibrating what you're doing in social networks and how you're using social media tools. Bonus Code — Women Online Magazine: Make Big Money Online Doing What You Love. You must be on someone's list you values giving you great freebies!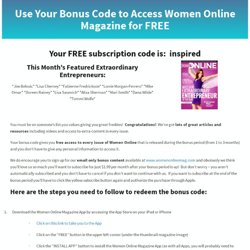 Congratulations! We've got lots of great articles and resources including videos and access to extra content in every issue. Your bonus code gives you free access to every issue of Women Online that is released during the bonus period (from 1 to 3 months) and you don't have to give any personal information to access it. The #Kindness Approach to Customer Service, Social Media, Life. 2nd Annual iBev Digital & Social Media Conference for... Tickets, San Francisco. Invalid quantity.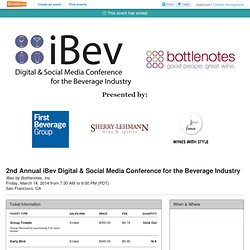 Please enter a quantity of 1 or more. The quantity you chose exceeds the quantity available. Please enter your name. Please enter an email address. How to Create an Online Book Tour With Social Media | Peg Fitzpatrick. You thought that writing your book was going to be hard work, right?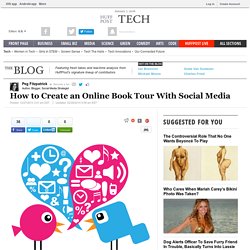 Well, the work begins when you publish. Whether you are a traditionally published author, hybrid author or independently self-publishing, you will need to market your book and online is the place to do it. Social media marketing is the hip version of the old book tours where authors trekked from city to city selling their books. Britt Michaelian: Social Media As a Vehicle to World Improvement.
"Thousands of candles can be lit from a single candle, and the life of the candle will not be shortened.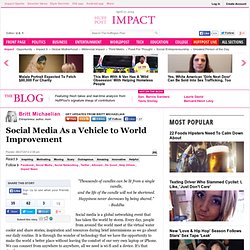 Happiness never decreases by being shared. " - Buddha Social media is a global networking event that has taken the world by storm. Every day, people from around the world meet at the virtual water cooler and share stories, inspiration and resources during brief intermissions as we go about our daily routine. Goals of Social Media Marketing | Tailwind Blog: Pinterest Analytics and Marketing Tips, Pinterest News - Tailwindapp. We don't want to beat a dead horse; we're sure you've heard it over and over again- marketing through social media is big.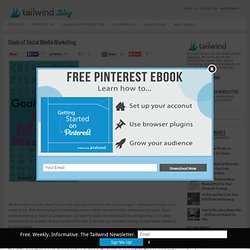 With this new type of marketing comes a whole new set of rules, techniques and goals. Social media marketing is meant to complement, not take the place of, traditional forms of marketing, so its goals are unique to its practice. Here are some of the main goals that you will want to keep in mind when marketing on social media. Social Media Scheduling | Tailwind Blog: Pinterest Analytics and Marketing Tips, Pinterest News - Tailwindapp. It's a new year, and you know what that means- the perfect time for New Year's resolutions!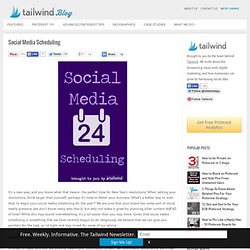 When setting your resolutions, think larger than yourself; perhaps it's time to better your business. What's a better way to start than to begin your social media scheduling for the year?! Social Media Engagement Webinar with Aliza Sherman and Danielle Smith. Put "engage" front and centre in your social media marketing engagement strategies!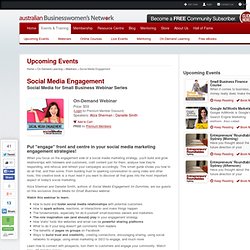 When you focus on the engagement side of a social media marketing strategy, you'll build and grow relationships with followers and customers, craft content just for them, analyse how they're responding, and refocus and refresh your campaigns accordingly. This smart guide shows you how to do all that, and then some. Social Media Engagement Webinar with Aliza Sherman and Danielle Smith.
Social Media Engagement Webinar with Aliza Sherman and Danielle Smith. Social Media Engagement Webinar with Aliza Sherman and Danielle Smith. Book review: Social Media Engagement for Dummies » Trafcom News Blog. Social Media Engagement for Dummiesby Aliza Sherman and Danielle Elliott Smith John Wiley & Sons, Inc. 2013 Social Media Engagement for Dummies manages to distill the most important elements of the major social media platforms (Facebook, Twitter, LinkedIn, Pinterest, Google+ and others) and explains how to best use them for engagement.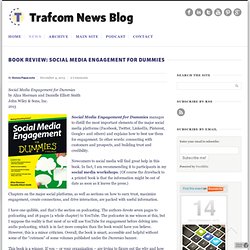 In other words: connecting with customers and prospects, and building trust and credibility. Newcomers to social media will find great help in this book. In fact, I am recommending it to participants in my social media workshops. (Of course the drawback to a printed book is that the information might be out of date as soon as it leaves the press.) Social Media for the Savvy Professional (with images, tweets) · alizasherman. 10 Strategic Ways to Optimize Your Pinterest Page - Infographic.
In September this year, ComScore reported that Pinterest had penetrated the top 50 list of most visited sites in the USA.
Not bad for a new social network that is barely 3 years old. The same study highlights Pinterest's explosive growth, which now equates to over 25 million unique monthly users. Given this fast-growing user base, Pinterest is a solid choice for attracting more traffic, leads and customers to your business. ErinMargolin : Dear @alizasherman &...
Savvy Social Engage: NYC June 26 Tickets, New York. Invalid quantity. Please enter a quantity of 1 or more. The quantity you chose exceeds the quantity available. Please enter your name. Please enter an email address. Social Media Engagement For Dummies (For Dummies (Business & Personal Finance)): Aliza Sherman, Danielle Elliott Smith: 9781118530191: Amazon.com. 5 New Twitter Features You Shouldn´t Miss. 1. A Relevant Audience Thanks To 'Negative Keyword Targeting' If you really want to reach a larger audience and spark high engagement, you definitely want to make sure that you appear in relevant search results and don't spam users with profiles from tweets and hashtags that they weren't searching for in the first place. That´s why Twitter introduced Negative Keyword Targeting for Promoted Tweets, which will let advertisers buy a term but avoid having the ad shown in unrelated conversations.
So for example, if you decide to buy the term Mars as the candy bar or planet, you can make sure that it doesn't show up near conversations about the singer Bruno Mars. In this case, "Bruno" would be your negative keyword. Facebook might make money from its search tool, analysts say | Internet & Media. Facebook did not introduce a phone as many had hoped, but its new Graph Search might actually be able to generate revenue for the social-networking giant, analysts say. Still, Facebook likely won't make much money from the tool in the near term as it focuses on user experience, analysts added, and people shouldn't expect Facebook to actually challenge Google's search dominance anytime soon. In addition, Facebook's stock could see some short-term pressure from investors who were expecting a larger announcement like a phone or Web search, RBC analyst Mark Mahaney said.
Facebook, during an event yesterday at its headquarters in Menlo Park, Calif., unveiled a new tool that essentially is Facebook search with context. A bigger search bar offers members a way to type in their natural language queries and find photos from their past, restaurants their friends have visited, music and movies their buddies like, or even potential dates, would-be pals, job recruits, or media sources. 'It's About Time': Facebook Reveals New Search Feature : All Tech Considered. Hide captionFacebook CEO Mark Zuckerberg speaks at Facebook headquarters in Menlo Park, Calif., on Tuesday. Jeff Chiu/AP Facebook CEO Mark Zuckerberg speaks at Facebook headquarters in Menlo Park, Calif., on Tuesday. Facebook has launched a new feature that will let its users search for more detailed information across the social network.
Instagram Flap Shows Confusion Over Control of Content. 7 Simple Ways to Jumpstart Your LinkedIn Account. How 'Half the Sky' used social TV to fight oppression against women. Facebook 'Page Post Targeting': Great Opportunity, at a Cost. Instagram 3.0 Bets Big On Geolocation With Photo Maps, Letting You Showcase The Story Behind Your Photos. Photo by alizasherman. 12 Pinterest Tools You'll Want to Use.
Am. 10 Non-Profits Leveraging Pinterest for Social Good. KLM Surprise. Revenue Growth Via Social Tools. How Social Media is Affecting the Way We Speak and Write — Online Collaboration. 5 Best Practices for Digital Marketers in 2012. 30 Social Media Predictions for 2012 From the Pros. The Power of Lists and Collected Resources for Social Media Marketing. How to Make Your Startup Go Viral The Pinterest Way.
Recording Information. Sparboe Update. Infographic: When do people share on social media? The Secret Sauce – Free Advice for Ragu. CHART OF THE DAY: How Many Users Does Twitter REALLY Have? How Crowdsourcing Helps Achieve Business Goals & Develop... Inside social media at Delta Air Lines -- a behind the scenes look. Smart Ways to Use Future Tech & Social Media.
Looking For Social Media Experts ... Looking for influencers? Tools are not enough. - Digital Ingredients. The year of Social Media 2010. 5 Key Tips for a Successful Social Media Content Strategy.
Yahoo Shutting Down Delicious, Buzz, Other Services. Facebook Meets Charity - Live Discussions. Twitter Tools. 10 Things I Learned About Facebook in 2010. The Oldest Social Gesture: The Handshake « The Nimble Blog. 7 Tips for Succeeding as a Social Media Strategist. Paula Berg: Turning Lemons into Lemonade: 11 Components of a Social Media Crisis Plan.
---