Social Media
You thought that writing your book was going to be hard work, right?
How to Create an Online Book Tour With Social Media | Peg Fitzpatrick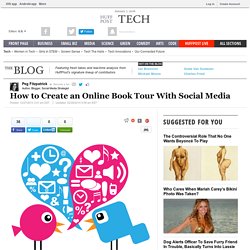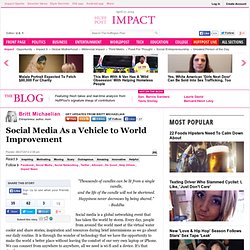 "Thousands of candles can be lit from a single candle, and the life of the candle will not be shortened.
Britt Michaelian: Social Media As a Vehicle to World Improvement
We don't want to beat a dead horse; we're sure you've heard it over and over again- marketing through social media is big.
Goals of Social Media Marketing | Tailwind Blog: Pinterest Analytics and Marketing Tips, Pinterest News - Tailwindapp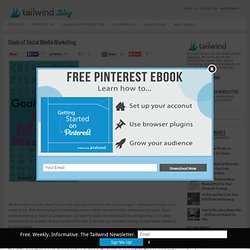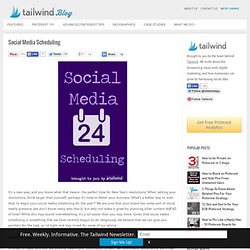 Social Media Scheduling | Tailwind Blog: Pinterest Analytics and Marketing Tips, Pinterest News - Tailwindapp
It's a new year, and you know what that means- the perfect time for New Year's resolutions! When setting your resolutions, think larger than yourself; perhaps it's time to better your business. What's a better way to start than to begin your social media scheduling for the year?!
Social Media Engagement Webinar with Aliza Sherman and Danielle Smith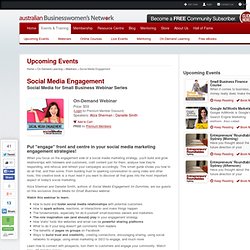 Put "engage" front and centre in your social media marketing engagement strategies! When you focus on the engagement side of a social media marketing strategy, you'll build and grow relationships with followers and customers, craft content just for them, analyse how they're responding, and refocus and refresh your campaigns accordingly. This smart guide shows you how to do all that, and then some.
Social Media Engagement Webinar with Aliza Sherman and Danielle Smith
Social Media Engagement Webinar with Aliza Sherman and Danielle Smith
Social Media Engagement Webinar with Aliza Sherman and Danielle Smith
Book review: Social Media Engagement for Dummies » Trafcom News Blog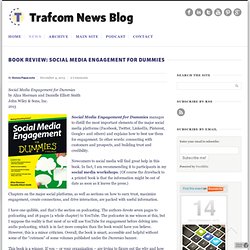 Social Media Engagement for Dummiesby Aliza Sherman and Danielle Elliott Smith John Wiley & Sons, Inc. 2013 Social Media Engagement for Dummies manages to distill the most important elements of the major social media platforms (Facebook, Twitter, LinkedIn, Pinterest, Google+ and others) and explains how to best use them for engagement.
Social Media for the Savvy Professional (with images, tweets) · alizasherman
10 Strategic Ways to Optimize Your Pinterest Page - Infographic
In September this year, ComScore reported that Pinterest had penetrated the top 50 list of most visited sites in the USA.
ErinMargolin : Dear @alizasherman &
Savvy Social Engage: NYC June 26 Tickets, New York - Eventbrite
Invalid quantity.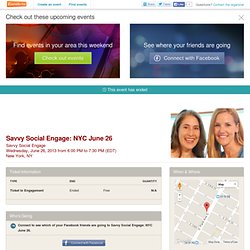 Social Media Engagement For Dummies (For Dummies (Business & Personal Finance)): Aliza Sherman, Danielle Elliott Smith: 9781118530191: Amazon.com
1. A Relevant Audience Thanks To 'Negative Keyword Targeting'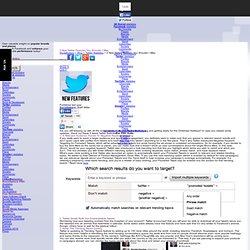 5 New Twitter Features You Shouldn´t Miss
Facebook CEO Mark Zuckerberg unveils Graph Search during an event at the company's headquarters. (Credit: James Martin/CNET)
Facebook might make money from its search tool, analysts say | Internet & Media
'It's About Time': Facebook Reveals New Search Feature : All Tech Considered
hide captionFacebook CEO Mark Zuckerberg speaks at Facebook headquarters in Menlo Park, Calif., on Tuesday.
Instagram Flap Shows Confusion Over Control of Content
7 Simple Ways to Jumpstart Your LinkedIn Account – Lisa Larter
How 'Half the Sky' used social TV to fight oppression against women
Facebook 'Page Post Targeting': Great Opportunity, at a Cost
Instagram 3.0 Bets Big On Geolocation With Photo Maps, Letting You Showcase The Story Behind Your Photos
You won't find any new filters in the latest version of Instagram. Instead, the fourteen person team behind the world's most beloved mobile app (now 80 million registered users strong) has decided to think outside the box, the browser box. "With every dot oh release we've tried to shift our focus dramatically," Instagram CEO Kevin Systrom tells me in one of the longest interviews I've ever conducted about a UI change , "Instagram 2.0, with its new filters, etc, was all about the user's production experience.
Photo by alizasherman
12 Pinterest Tools You'll Want to Use
am
10 Non-Profits Leveraging Pinterest for Social Good
There's no question that Pinterest is the hottest social network right now. From your friends and family to celebrities, athletes and designers, everyone's pinning visually interesting content. But did you know that non-profit organizations are pinning, too? Non-profits, like other companies and brands, are flocking to Pinterest and utilizing its features to gain exposure. They want to show supporters more about their missions and how their work makes a difference in the world. We found ten non-profits that are particularly awesome at pinning.
KLM Surprise
Revenue Growth Via Social Tools
Do you speak "social?" There is a lot of writing out there about the effects of social media on business, marketing, branding and customer services. But what about how social media communications is impacting our written communications, or even our oral communications?
How Social Media is Affecting the Way We Speak and Write — Online Collaboration
The Power of Lists and Collected Resources for Social Media Marketing
Recording Information
Sparboe Update
Infographic: When do people share on social media?
The Secret Sauce – Free Advice for Ragu
CHART OF THE DAY: How Many Users Does Twitter REALLY Have?
How Crowdsourcing Helps Achieve Business Goals & Develop... - Eventbrite
Inside social media at Delta Air Lines -- a behind the scenes look
Smart Ways to Use Future Tech & Social Media
Looking For Social Media Experts ...
Looking for influencers? Tools are not enough. - Digital Ingredients
The year of Social Media 2010
Yahoo Shutting Down Delicious, Buzz, Other Services
Facebook Meets Charity - Live Discussions
10 Things I Learned About Facebook in 2010
The Oldest Social Gesture: The Handshake « The Nimble Blog
Paula Berg: Turning Lemons into Lemonade: 11 Components of a Social Media Crisis Plan