Websites for students
Little Bird Tales - Home. Childrens Book Sequels. Ambleside C.E. Primary School. Try one of our own Language Activites: LOOK, COVER, WRITE AND CHECK - Powerful online spelling tool.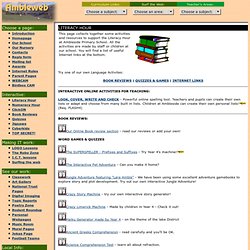 Teachers and pupils can create their own lists or adapt and choose from many built in lists. Children at Ambleside can create their own personal lists! (Req. Comic Master. Year 2011 Events – What would you Remember 2011 for? Vote Now. A Web Whiteboard. Site of the Week | Great Websites for Kids.
How to draw ... | Children's books. Study Vibe - How to study - study skills for primary and high school students.
---