Getting My Life Together
Get flash to fully experience Pearltrees
Guess who won?
Finding a Fair Compromise
by Mark and Angel
post written by: Marc Email Family isn't always blood. They're the people in your life who appreciate having you in theirs – the ones who encourage you to improve in healthy and exciting ways, and who not only embrace who you are now, but also embrace and embody who you want to be. These people – your real family – are the ones who truly matter. Here are twenty tips to help you find and foster these special relationships.
#2. We Feel Like Manhood Was Stolen from Us at Some Point Photos.com You know how every comedy has that stock character of the womanizing, amoral guy who just says what he thinks all the time, and cares only about himself?
Wondering where all the good men have gone? Millionaire Matchmaker Patti Stanger says you can find Mr. Right in eight steps or less.
Spice up your love life with expert advice from matchmaker Patti Stanger. 1. Thou Shall Return Calls in a Timely Manner Always return a potential love interest's call within 48 hours during the week (72 hours over the weekend).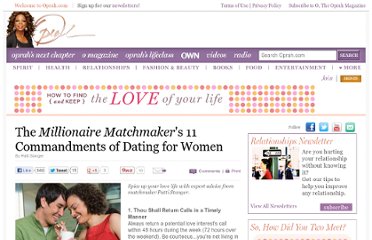 Record Keeping: Financial Records The financial records of a company are vital for determining the profitability of the business. Without financial records, an owner/manager does not have the information necessary to evaluate the operating effectiveness of the business; to decide on how much additional capital might be needed; to determine realistic prices for merchandise; to expand operations or file for bankruptcy; or to answer a myriad of other questions dealing with the financial health of the business. This discussion provides an introduction to various recordskeeping practices The Accounting Equation
Earlier this week, David Cain of Raptitude.com posted a great comprehensive guide to creating a life checklist . As soon as I saw it, my template brain started firing synapses. With David's permission, I've created a Life Checklist Template to compliment his post.