Favorite Blogs
RainyMood.com: Rain makes everything better.
GABIFRESH
epicuriousisme
PassiveAggressiveNotes.com
Regretsy | Where DIY Meets WTF
drink your juice.
Dear Coquette
The Coquette
Hyperbole and a Half
#whatshouldwecallme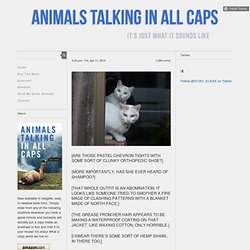 ATIAC will return on Monday, March 18th because I (finally) moved to Glasgow and there is a whole lot of anti-jetlag napping, lawfully wedded intercourse, and unpacking that needs to be done. Apologies for the delay. It's tricky, moving over the ocean. But hey, I'm finally on the same continent as my wife, for good.
ANIMALS TALKING IN ALL CAPS - Page 1 of 66
Sea of Shoes
wtforever21.com | Fashion Eff Ups from Forever 21