Pinterest
Want to Dominate Pinterest? Follow These 6 Tips. Pinterest is the only social network your grandma understands; it's also the one your mom jumped on before you did.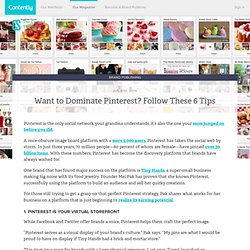 A once-obscure image board platform with a mere 5,000 users, Pinterest has taken the social web by storm. In just three years, 70 million people—80 percent of whom are female—have pinned over 30 billion items. With these numbers, Pinterest has become the discovery platform that brands have always wished for. One brand that has found major success on the platform is Tiny Hands, a super-small business making big noise with its food jewelry.
6 Ways to Use Pinterest to Promote Your Brand. Is Pinterest part of your marketing strategy?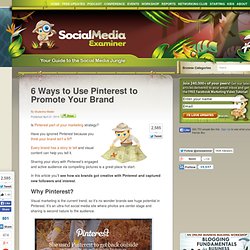 Have you ignored Pinterest because you think your brand isn't a fit? Every brand has a story to tell and visual content can help you tell it. Sharing your story with Pinterest's engaged and active audience via compelling pictures is a great place to start. In this article you'll see how six brands got creative with Pinterest and captured new followers and interest. Four Pinterest Best Practices for Brands. Everyone (particularly us ladies) loves getting lost in the world of images on Pinterest.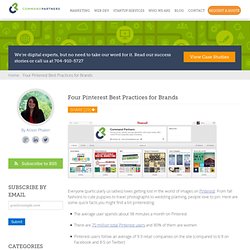 From fall fashions to cute puppies to travel photographs to wedding planning, people love to pin. Here are some quick facts you might find a bit pinteresting: The average user spends about 98 minutes a month on PinterestThere are 70 million total Pinterest users and 80% of them are womenPinterest users follow an average of 9.3 retail companies on the site (compared to 6.9 on Facebook and 8.5 on Twitter)47% of U.S. online consumers have made a purchase based on recommendations from PinterestConversion rates for Pinterest traffic are 50% higher than other social media trafficPinterest is the top converting social media site for "Top of the Funnel" advertising (over 400% more revenue per click than Twitter and 27% more than Facebook) So how do you take users' passion for pinning, and convert it into clicks and revenue?
What Happens When Guys Get on Pinterest. <br/><a href=" News</a> | <a href=" ABC News Videos</a> Copy It may have risen to fame on the shoulders of mommy bloggers, brides and fashionistas, but a growing number of guys are staking -- or pinning, as it were -- their claim in the land of Pinterest.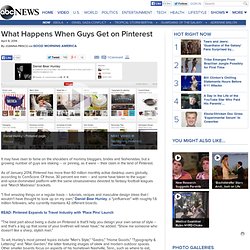 LoveList for Pinterest - Scan to Pin. Why Pinterest Will Be The King Of Social Media In 2014 - infographic. Did you know that Pinterest attracts more than 1K visitors per minute and it gets 2.5 million page views per month.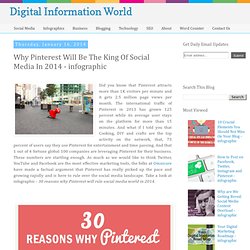 The international traffic of Pinterest in 2013 has grown 125 percent while its average user stays on the platform for more than 15 minutes. And what if I told you that Cooking, DIY and crafts are the top activity on the network, that, 73 percent of users say they use Pinterest for entertainment and time passing. And that 1 out of 4 fortune global 100 companies are leveraging Pinterest for their business. Why Business Should Take an Interest in Pinterest. Pinterest has opened up mood-boarding to the digital masses.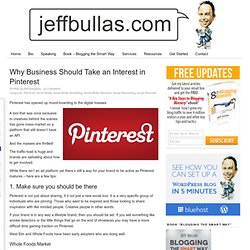 A tool that was once exclusive to creatives behind the scenes has gone mass-market on a platform that still doesn't have an API. And the masses are thrilled! The traffic-load is huge and brands are salivating about how to get involved. While there isn't an ad platform yet there's still a way for your brand to be active as Pinterest matures – here are a few tips: How to Use Pinterest Analytics, 6 Metrics Worth Measuring. Is your business using Pinterest to reach your audience with one-of-a-kind visuals?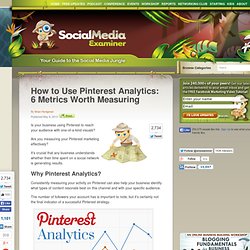 Are you measuring your Pinterest marketing effectively? It's crucial that any business understands whether their time spent on a social network is generating results. Why Pinterest Analytics? Consistently measuring your activity on Pinterest can also help your business identify what types of content resonate best on this channel and with your specific audience. The number of followers your account has is important to note, but it's certainly not the final indicator of a successful Pinterest strategy. Social Media 2013: User Demographics For Facebook, Twitter, Pinterest And Instagram [INFOGRAPHIC] Pinterest Introduces Analytics Platform. Pinterest introduced a web-based analytics tool Tuesday morning, allowing site owners to track users' engagement with their sites on the social network.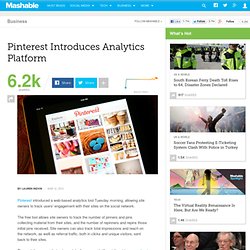 The free tool allows site owners to track the number of pinners and pins collecting material from their sites, and the number of repinners and repins those initial pins received. Site owners can also track total impressions and reach on the network, as welll as referral traffic, both in cilcks and unique visitors, sent back to their sites.
Pinterest Strategy: Are You Pinning with Purpose? Let's say you're a tour guide.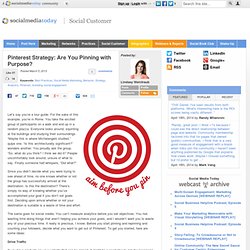 For the sake of this example, you're in Rome. You take the excited group of participants on a walk and end up in a random piazza. Everyone looks around, squinting at the buildings and studying their surroundings. "Maybe this is where Michelangelo studied," quips one. A Major College Flowchart by CollegeHumor.com on The Bazaar. Buy creative products by CollegeHumor.com online! Pinterest Image Optimization - How to optimize for Pinterest. On February 22 this year, Matt Siltala spoke on Pinterest (Growing your Brand with Pinterest Marketing) at SearchFest 2013 in Portland.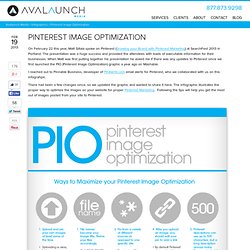 The presentation was a huge success and provided the attendees with loads of executable information for their businesses. When Matt was first putting together his presentation he asked me if there was any updates to Pinterest since we first launched the PIO (Pinterest Image Optimization) graphic a year ago on Mashable. I reached out to Pinnable Business, developer of PinAlerts.com email alerts for Pinterest, who we collaborated with us on this infograhpic.
10 Tips for Marketing your Business on Pinterest. If you think that publishing is going through an evolution then photography is experiencing a revolution. There are happy snappers everywhere. The smart phone with the inbuilt high definition camera is turning everyone into a photgrapher. Add some software technology with Instagram filters and an ordinary photo is becoming a piece of art. Sites such as Pinterest are also allowing us to share this visual art form in glorious color, creativity and ease just by pinning images from the screen with a couple of clicks. Is Pinterest the Social Media Platform with the Most ROI? Pinterest, the social media Cinderella story of 2012, is fast positioning itself as a major tool for e-commerce. Along with the site's growing user base, other businesses have seized the opportunity to build on top of the platform.
How revolutionary is Pinterest? Sharad Verma, CEO and co-founder of Pinterest analytics firm Pinfluencer, considers it one of the most transformational forces to impact the e-commerce space in recent years. "Pinterest is really about product collection. It's really about product curation. Pinfluencer - Marketing and Analytics for Pinterest. Top 5 Things To Know About Pinterest for Businesses. So you want to introduce Pinterest to your social media toolbox, but have no idea how to use Pinterest for business instead of pleasure? You're not alone. There is a common misconception that this social media website is just for recipes and DIY tutorials; however, it's entirely possible to successfully market your product or business on one of the fastest-growing social sites around.
Make sure you address each of the five tips below, and you're well on your way to gaining followers and seeing repins from all over. We also want you to get the most out of Pinterest for business! Pinterest Launches Holiday Site, Shares Famous People's Seasonal Inspiration. To get help you with your seasonal planning and get you into the Christmas mood, Pinterest has launched a 'Pinspiration' page, where well-known personalities and brands will share their holiday inspiration. Unveiling a new guest pinner daily over 30 days, the site works like an advent calendar of holiday-related inspirational goodies. Already into its second day, pinners can view the holiday boards of daytime talk show host Katie Couric, and Dale Partridge of Sevenly.org, a charity retail website. Filled with lovely images of Christmas home décor, delicious recipes of seasonal dishes and steaming-hot winter drinks, these boards will get you feeling all warm and happy about the upcoming holidays.
Whether you are looking for decorating tips or just some visual candies, you should be bookmarking this page. [via Pinterest] Social Media / Cool #infographic on #Pinterest on my Pinterest, how fitting! Login. Pinterest IPO: Step Aside Facebook, Why Pinterest's IPO Could Be Around the Corner. Polka Dots www.polkadotsstationery.com (polkadotsinc) on Pinterest. Pinterest and Instagram: Pictures speak louder than words. How Facebook, Pinterest Compare In Social Commerce. More Colleges Try Pinterest for Social Media Marketing. PinView Turns Your Facebook Timeline Into a Pinterest Board. Honda Wants You to Stop Using That Damn Pinterest Already. Ali Phalen / Pinterest. Did Facebook Buy Instagram to Compete with Pinterest? 9 Ways to Engage Your Employees on Pinterest. 19 Tools for Pinterest Pros.
Pinerly: Hands on With the Newest Pinterest Analytics Tool. Why Brand Managers Need to Take an Interest in Pinterest. How Pinterest Can Get Your Brand Attention [INFOGRAPHIC] This Is Everything You Need To Know About Pinterest (Infographic) Using Pinterest Yet? 13 Tips for Gaining Business Exposure for Your Clients. 20 Awesome Pinterest Tools. Pingram Founder: Why I Mashed Up Pinterest and Instagram. Pinterest - The Social Media Darling Of 2012: Infographic. Pinterest Infographics Reveal Marketing Potential. 13 Fun Facts About Pinterest Users (INFOGRAPHIC) Pinpuff Launches as a Klout for Pinterest. Need More YouTube Views? Try Pinterest. Login. You think Pinterest is big? Here comes The Fancy, with a brand spanking new e-commerce platform.
How Brands Are Using Pinterest - And What They Can Do Better. Businesses pin hopes on digital scrapbook Pinterest. News, Travel, Weather, Entertainment, Sports, Technology, U.S. & World. 4 Approaches to Sharing Social Media Content on Pinterest. 10 Creative Ways to Use Pinterest for Marketing. 5 Brands Using Pinterest Brilliantly. The Potential of Pinterest. Pinterest for Food Brands, Startups, & Organizations. The Secret To Pinterest's Success: We're Sick Of Each Other | Share on LinkedIn. What's This Pinterest Website? Pinterest demographic data. Is Pinterest Pocketing Revenue by Tracking User-Generated Pins? Pinterest Becomes Top Traffic Driver for Retailers [INFOGRAPHIC] Pinterest Drives More Traffic Than Google+, YouTube and LinkedIn. How Does Pinterest's Referral Traffic Compare To Other Social Medias? #chart.
Why Pinterest is 2012's hottest website. Pinterest: 10 reasons why it will be bigger than Twitter. Can Pinterest Help Your Job Search? Pinterest: How Do U.S. and UK Users Compare? [INFOGRAPHIC] Pinterest: Everything You Wanted to Know About 2012's Hottest Startup.
---