Pinterest
How to Use Pinterest Analytics, 6 Metrics Worth Measuring
Is your business using Pinterest to reach your audience with one-of-a-kind visuals? Are you measuring your Pinterest marketing effectively?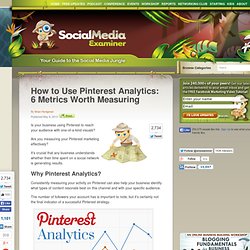 Social Media 2013: User Demographics For Facebook, Twitter, Pinterest And Instagram [INFOGRAPHIC]
Pinterest Introduces Analytics Platform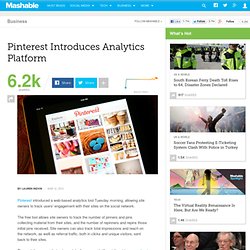 Pinterest introduced a web-based analytics tool Tuesday morning, allowing site owners to track users' engagement with their sites on the social network. The free tool allows site owners to track the number of pinners and pins collecting material from their sites, and the number of repinners and repins those initial pins received. Site owners can also track total impressions and reach on the network, as welll as referral traffic, both in cilcks and unique visitors, sent back to their sites.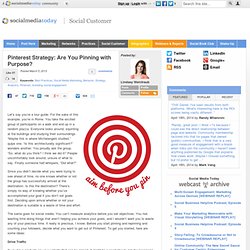 Let's say you're a tour guide.
Pinterest Strategy: Are You Pinning with Purpose?
A Major College Flowchart by CollegeHumor.com on The Bazaar. Buy creative products by CollegeHumor.com online!
Pinterest Image Optimization - How to optimize for Pinterest
On February 22 this year, Matt Siltala spoke on Pinterest ( Growing your Brand with Pinterest Marketing ) at SearchFest 2013 in Portland.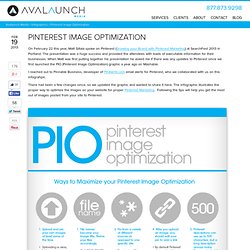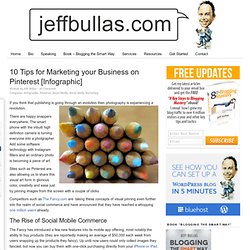 If you think that publishing is going through an evolution then photography is experiencing a revolution.
10 Tips for Marketing your Business on Pinterest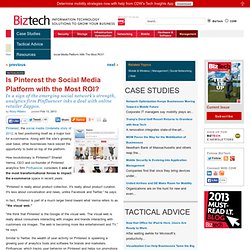 Pinterest , the social media Cinderella story of 2012 , is fast positioning itself as a major tool for e-commerce. Along with the site's growing user base, other businesses have seized the opportunity to build on top of the platform.
Is Pinterest the Social Media Platform with the Most ROI?
Pinfluencer - Marketing and Analytics for Pinterest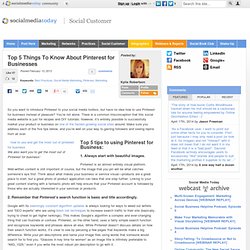 So you want to introduce Pinterest to your social media toolbox, but have no idea how to use Pinterest for business instead of pleasure?
Top 5 Things To Know About Pinterest for Businesses
Pinterest Launches Holiday Site, Shares Famous People's Seasonal Inspiration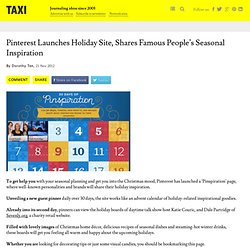 To get help you with your seasonal planning and get you into the Christmas mood, Pinterest has launched a 'Pinspiration' page, where well-known personalities and brands will share their holiday inspiration. Unveiling a new guest pinner daily over 30 days, the site works like an advent calendar of holiday-related inspirational goodies.
Social Media / Cool #infographic on #Pinterest on my Pinterest, how fitting!
Login
Pinterest IPO Step Aside Facebook Why Pinterests IPO Could Be Around the Corner Pinterest does not communicate much about its expansion or strategic plans but with its $1.5 billion valuation earlier in the year and its recent move to new offices , worth $9 million in San Francisco, California, the social scrap booking website could be preparing itself for a possible IPO in the near future.
Pinterest IPO: Step Aside Facebook, Why Pinterest's IPO Could Be Around the Corner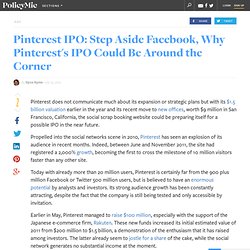 Polka Dots www.polkadotsstationery.com (polkadotsinc) on Pinterest
Pinterest and Instagram: Pictures speak louder than words
Instagram is as addictive as Pinterest - and is all mobile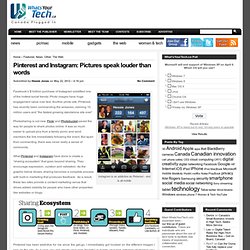 How Facebook, Pinterest Compare In Social Commerce
With all the talk about the Facebook IPO, it's easy to lose sight of the fundamentals. For social networks to succeed long term, they have to provide real value to advertisers and merchants.
More Colleges Try Pinterest for Social Media Marketing
April 26, 2012
PinView Turns Your Facebook Timeline Into a Pinterest Board
Ever wished that long, scrolling Facebook Timeline was somehow easier to manage — like, say, a Pinterest board?
Honda Wants You to Stop Using That Damn Pinterest Already
Honda is having its Pinterest and eating it, too—with a new campaign that urges top pinners to stop wasting their life already and get outside. Its "Leap List" campaign for the CR-V is all about getting out and living life to the fullest. So, for the Pinterest portion, Honda agency RPA is offering $500 each to the most active pinners (as identified by Mashable) if they'll take a 24-hour break from Pinterest—aka a "Pintermission" (groan)—and actually go out and do stuff they've been pinning about.
Different forces may be converging to drive a major strategic move by Facebook. Just hours ago, Facebook announced that it will pay $1 billion dollars to acquire Instagram .
Did Facebook Buy Instagram to Compete with Pinterest?
9 Ways to Engage Your Employees on Pinterest
19 Tools for Pinterest Pros
Pinerly: Hands on With the Newest Pinterest Analytics Tool
Why Brand Managers Need to Take an Interest in Pinterest
This Is Everything You Need To Know About Pinterest (Infographic)
Using Pinterest Yet? 13 Tips for Gaining Business Exposure for Your Clients
Pingram Founder: Why I Mashed Up Pinterest and Instagram
www.demographicsnow.com/custom/Templates/static/mosaicPDF/C14 Boomers and Boomerangs.pdf
Pinterest Infographics Reveal Marketing Potential
13 Fun Facts About Pinterest Users (INFOGRAPHIC)
Pinpuff Launches as a Klout for Pinterest
Need More YouTube Views? Try Pinterest
Login
You think Pinterest is big? Here comes The Fancy, with a brand spanking new e-commerce platform
How Brands Are Using Pinterest - And What They Can Do Better
Businesses pin hopes on digital scrapbook Pinterest
4 Approaches to Sharing Social Media Content on Pinterest
10 Creative Ways to Use Pinterest for Marketing
5 Brands Using Pinterest Brilliantly
The Potential of Pinterest
Pinterest for Food Brands, Startups, & Organizations
The Secret To Pinterest's Success: We're Sick Of Each Other | Share on LinkedIn
What's This Pinterest Website?
Pinterest demographic data
Is Pinterest Pocketing Revenue by Tracking User-Generated Pins?
Pinterest Drives More Traffic Than Google+, YouTube and LinkedIn
How Does Pinterest's Referral Traffic Compare To Other Social Medias? #chart
Why Pinterest is 2012's hottest website
Pinterest: 10 reasons why it will be bigger than Twitter
Can Pinterest Help Your Job Search?
Pinterest: How Do U.S. and UK Users Compare? [INFOGRAPHIC]