Crowdsourcing
Silvia Foglia lavora a Berlino e da circa un anno si è imbarcata nella crociera attorno al mondo con twago , la piattaforma di crowdsourcing tedesca che mette in relazione tra loro fornitori e clienti con le dinamiche del social network. Un tema molto caldo che discutiamo con lei, che il country manager per l'Italia, nella fredda Berlino: twago si considera una piattaforma di crowdsourcing o si vuole collocare nel segmento dei marketplace tradizionali? Ci definiamo una piattaforma online per la mediazione di progetti internazionali, questa definizione ci colloca quindi nel segmento dei marketplace.
crowdsourcing, il mercato dell'intelligenza: twago | Social Media Italia
Freedom to WiFi
Questo articolo è uscito con il numero di Marzo di Pubblicità Italia . Il Crowdsourcing è un modello organizzativo che consente alle organizzazioni di affidare ad una community esterna, sotto forma di open call, un'attività tradizionalmente svolta entro i perimetri aziendali. I vantaggi del crowdsourcing sono da ricercare nella riduzione dei costi e nella possibilità di ricevere contributi di qualità o quantità non raggiungibili attraverso il modello tradizionale e l'outsourcing.
Lo stato del crowdsourcing in Italia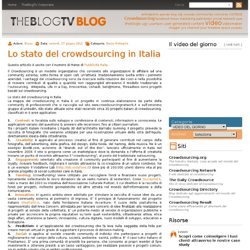 Matt Barrie, CEO of Freelancer.com – Outsource Everything « Getting Results from Crowdsourcing
Getting Results from Crowdsourcing
Self-Service - CrowdFlower
If you are a self-starter who wants to build a crowdsourcing job with minimal support, get started with Builder . The best types of jobs are data-centric projects that can be split into many simple, repetitive tasks. If you are seeking a custom built solution with additional customer support, then building it yourself may be difficult. For highly complex projects that require specialized skill sets, try a custom solution.