Médias
Download Pierre Carles - Bourdieu: Sociologie est un sport de combat (200 Torrent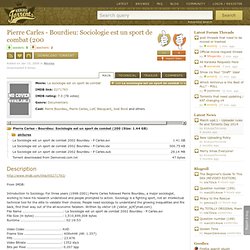 http://www.imdb.com/title/tt0271793/ From IMDB: Introduction to Sociology. For three years (1998-2001) Pierre Carles followed Pierre Bourdieu, a major sociologist, working to have his research understood and people prompted to action.
À lire La boîte aux lettres du cimetière, un livre de Serge Pey En librairie le 2 mai 2014 (aux éditions Zulma) "Là-bas si j'y suis" côté coulisses Des auditeurs nous interrogent régulièrement sur le fonctionnement de notre émission, condition de travail, rémunérations, contrats, précarité, responsabilités... Beaucoup d'erreurs préjudiciables à l'émission et à l'équipe circulent en effet, y compris à Radio France.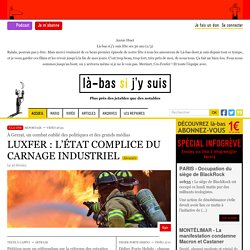 Produits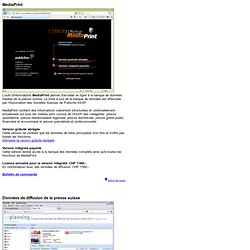 En tant que client privé, vous pourrez, grâce au portail des petites annonces de Publicitas, passer vos offres de manière simple, rapide et efficace dans 300 publications et plus sur Internet. Recherche géographique: Recherchez-vous un média dans votre région? Saisissez simplement le code postal ou le nom du lieu et le portail des petites annonces vous soumettra alors des propositions. Transparence des offres: Grâce à une présentation claire des médias comprenant les informations essentielles relatives au produit, au tarif et à la diffusion, vous serez en mesure d'évaluer les offres dans leur intégralité et en toute transparence. Edition simple de texte: Par l'intermédiaire de l'éditeur de texte, vous saisirez le contenu de votre annonce, vous l'adapterez à votre guise et vous pourrez le visualiser directement.
PRESSEDD - L'acces le plus complet à la presse francophone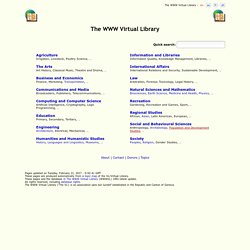 The WWW Virtual Library : en · es · fr · zh About | Contact | Donors | Topics Pages updated on Friday, August 16, 2013 - 7:48:42 GMT .These pages are produced automatically from a topic map of the VL/Virtual Library. These pages and the database © The WWW Virtual Library (WWWVL) 1991-latest update. All rights reserved, including database rights. The WWW Virtual Library ('The VL') is an association sans but lucratif established in the Republic and Canton of Geneva.
portail-media.com Sommaire