(e)portfolios
Présentation portfolio Atelier Entrepreneuriat Kibuye 28/11/2013 by Aline Filiot on Prezi
"We do not learn from experience…we learn from reflecting on experience."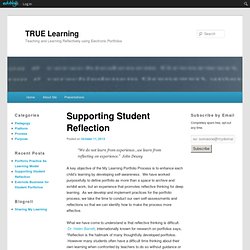 Supporting Student Reflection | TRUE Learning
Printable version of this paper (PDF - 2 MB) Helen C. Barrett
Balancing the Two Faces of E-Portfolios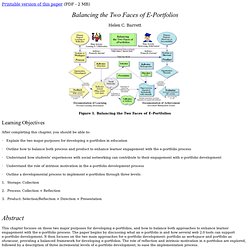 plateformes et canevas (e)portfolios
Le portfolio : un en-(je)u de formation et de développement professionnel. P147
ePortfolio introduction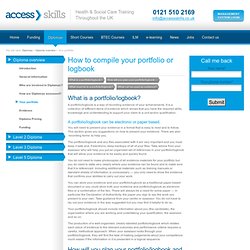 Your portfolio | Access Skills Care Training
What is a portfolio/logbook? A portfolio/logbook is a way of recording evidence of your achievements. It is a collection of different items of evidence which shows that you have the required skills, knowledge and understanding to support your claim to a unit and/or qualification.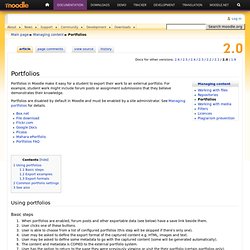 Portfolios
From MoodleDocs Portfolios in Moodle make it easy for a student to export their work to an external portfolio. For example, student work might include forum posts or assignment submissions that they believe demonstrates their knowledge. Portfolios are disabled by default in Moodle and must be enabled by a site administrator.
Why do we need an ePortfolio? — EIfEL
LinguaFolio is a portfolio assessment instrument designed to support individuals in setting and achieving their goals for learning languages. It includes these three components: Passport, where formal assessments and a student's self assessments (checklists) are documented, Biography, where information about a student's language background and intercultural activities are recorded, and Dossier, where samples of a student's work over time are archived. This three-fold approach, based on the European Language Portfolio, enables language learners at all ages and levels to document their language learning as they move along the continuum towards greater proficiency. LinguaFolio is not limited to documenting progress in learning "foreign" languages. Native speakers of languages other than English can use LinguaFolio to document both their progress in learning English as an additional language and their proficiency in their home language or languages.
LinguaFolio - National Council of State Supervisors for Languages