Fitness
Photo: Thinkstock There's a big difference between how we should work out in our 20s and how we should work out when...we're no longer 20. Experts tell Carol Mithers how to find the perfect fit at any age.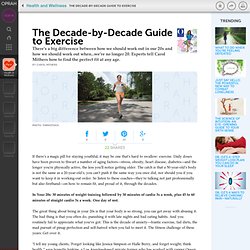 Working Out in Your 20s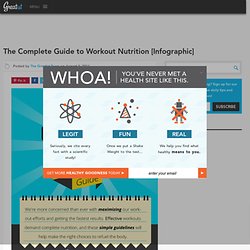 Check out Greatist's other Infographics and ADD this Infographic to your Website/Blog: Simply copy the code below and paste it into the HTML of your blog or website:
Which Food Has More Sugar?
Ailment One: A pulled hamstring You Need: Protein and potassium for muscle repair; plus anthocyanins (plant compounds) and omega-3 fats to reduce inflammation. Eat: Grilled salmon over wild rice, 1-2 cups cooked broccoli, or plain or vanilla yogurt topped with blueberries. Ailment Two: A bruise You Need: Vitamin C to shore up blood vessels; Vitamin K for blood clotting; plus oleocanthal, a natural substance in olive oil that mimics over-the-counter anti-inflammatory medications.
Eat This, Heal That
Healthy Diets For Dancers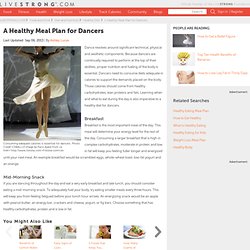 Dance revolves around significant technical, physical and aesthetic components. Because dancers are continually required to perform at the top of their abilities, proper nutrition and fueling of the body is essential. Dancers need to consume diets adequate in calories to support the demands placed on the body.
NUTRITION |
Nutrition March 26, 2010 Lilli Day / Getty Images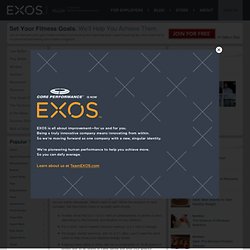 Jamie Eason Official Website - Jamie's Suggestions for a Healthy Grocery S...
Jamie's Suggestions for a Healthy Grocery Shopping List Proteins Boneless, Skinless Chicken Breast Tuna (water packed), or White Meat Chicken (water packed) Fish (tilapia, cod, halibut, and on occasion salmon and sea bass) Shrimp
The next month or two of work on Xanga 2.0 is going to be busy, so I wanted to share with everyone a roadmap of how we're thinking about things! We're dividing the work on this project into four basic phases. Phase 1. Data migration As described here, we've imported over every account that we have on Xanga over to the new system so that anyone who could sign into Xanga can still sign into Xanga 2.0. (Try it here!)