Blogs
MilaneseGAL
Golden Girl of the West
Alice's Closet
TokyoBunnie
non solo Kawaii
Magpie
El blog de cómics de Edicions de Ponent
i don't know what it is about this time of year that makes me just want to have my bare feet in the sand, be watching the sun setting into the ocean, and breathing in the warm salty air of the beach... as i get older, more and more i find myself missing that place i used to go to almost every.single.day. as a teen. (my skin doesn't miss it. as a matter of fact, i now wish i listened more and DID put SPF on my face...hindsight is 20/20). my mom calls me from her walk on the beach almost every morning... *sigh* yeah, i get a little homesick around this time of the year. heck on my pinterest my "dreaming of summer" has the most pictures in it. ah yes. i miss my ocean. case in point. this bracelet, brought a flood of memories, not because i used to have one like it but because i can totally see me wearing it by the beach, not caring that it's gotten salty and wet, because i can totally make another one in like less than 5 minutes flat when i get home.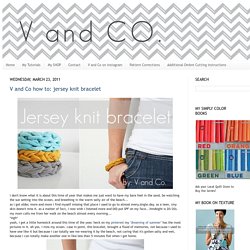 BritishBeautyBlogger
Blog de Goanna
♡ Pompitas de Algodón ♡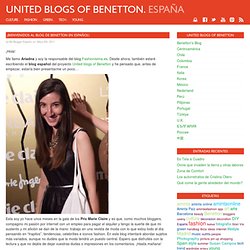 ¡Bienvenidos al blog de Benetton en español! | España
¡Hola! Me llamo Ariadna y soy la responsable del blog Fashionisima.es . Desde ahora, también estaré escribiendo el blog español del proyecto United blogs of Benetton y he pensado que, antes de empezar, estaría bien presentarme un poco… Esta soy yo hace unos meses en la gala de los Prix Marie Claire y es que, como muchos bloggers, compagino mi pasión por internet con un empleo para pagar el alquiler y tengo la suerte de que mi sustento y mi afición se dan de la mano: trabajo en una revista de moda con lo que estoy todo el día pensando en "trapitos", tendencias, celebrities e iconos fashion.
QUE MODERNO: ERES UN FISTRO SEXUAL, JARL
Daisy Chain
Prêt-à-Pordioser
The Rantings of a Shopaholic
Mi armario en ruinas
Akumota Tonturas
mes caprices belges: decoración , interiorismo y restauración de muebles
DEKOLOR
Mrs Boho
Decoración, fiestas y manualidades varias. Rebeca Terrón
Thestreetfashion5xpro
♫ ♪ Pink – Try ♫ ♪ I have mentioned in the past that the ethnic trend is one of my faves for this spring, I love all the different pieces out there and I am so excited by the prospect of wearing shorts with amazing tribal print jackets… or this lovely handbag with a mini skirt… I am adding a little bit of ethnic print here and there to avoid it nesting in the back of wardrobe until the sun comes out. Big kiss and thank you for visiting my blog during the easter holidays!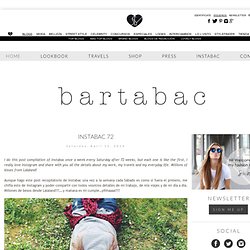 NORITAKA TATEHANA Blog
glamcanyon
Angy's tea room