Blogs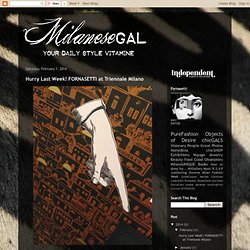 easy peaces for the up coming holidays a great pair of evening shoes like Jimmy Choo, Caovilla, de la Renta a sequin clutch to wear with everything after 6pm a pair of earrings full of drama , shop for the look not for the price a fake fur vest, great with black jeans or evening outfitis
MilaneseGAL
What an incredible match made in heaven this is. Kelly Wearstler has such an incredible eye and her design skills are just beyond. Can you say #girlcrush? Well, she is one of many incredible women I would love to know personally, but I admire her impeccable taste, her mad business woman skills, love of vintage, personal style, and most importantly her talent for juggling all of her passions and being a mom first (I can relate...), a mom to two boys that is.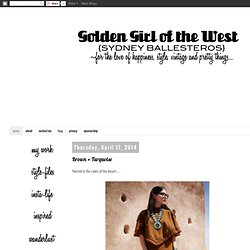 Golden Girl of the West
Pandora »
Alice's Closet
Da quando sono andata a vivere da sola, i programmi di cucina in TV sono diventati la mia salvezza. Infatti sono una di quelle persone che si annoia facilmente di un piatto, e se mangio troppo spesso le stesse cose....mi annoio. Ecco allora che arrivano loro, i miei idoli della cucina, i paladini della padella....Nigella Lawson, Gordon Ramsay, Jamie Oliver e sì anche la italianissima, Benedetta Parodi :) In particolare, in questo periodo, amo moltissimo i programmi di cucina di Nigella Lawson: oltre ad essere molto brava e fare ricette di mio gradimento, è anche molto simpatica, piacevole ed esperta di piatti e lingua italiana! Per esempio, prima ero beatamente distesa sul mio divano in fase relax: il mio obbiettivo era farmi una bel sonnellino e dormire almeno 40 minuti...ma ecco che comincia il programma di Nigella!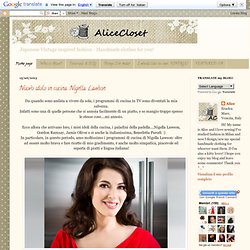 TokyoBunnie
non solo Kawaii
Magpie
Hello Adorable! - Cute Animals and Loads of Adorable Things to Buy, Eat, Make or Just Look At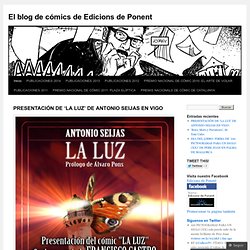 '100 PICTOGRAMAS PARA UN SIGLO (XX)' de Pere Joan '100 Pictogramas para un siglo' ofrece una visión del siglo XX, no a través de los acontecimientos, tantas veces narrados, sino a través de las 'idea-fuerza' y de las actitudes características que han definido el siglo XX. Ideas como la velocidad, el valor de lo joven, la ética laica, el ascenso de la mujer, el opinionismo, la omnipresencia de la música y así hasta un centenar de conceptos más. Todo ello contado con una peculiar mezcla de ese leguaje de síntesis, tan en boga hoy en día, como son los pictogramas y recogido en un formato que mezcla el cómic y la literatura ensayística. Página de '100 PICTOGRAMAS PARA UN SIGLO (XX)' de Pere Joan
El blog de cómics de Edicions de Ponent
i don't know what it is about this time of year that makes me just want to have my bare feet in the sand, be watching the sun setting into the ocean, and breathing in the warm salty air of the beach...as i get older, more and more i find myself missing that place i used to go to almost every.single.day. as a teen. (my skin doesn't miss it. as a matter of fact, i now wish i listened more and DID put SPF on my face...hindsight is 20/20). my mom calls me from her walk on the beach almost every morning...*sigh*yeah, i get a little homesick around this time of the year. heck on my pinterest my "dreaming of summer" has the most pictures in it. ah yes. i miss my ocean. case in point. this bracelet, brought a flood of memories, not because i used to have one like it but because i can totally see me wearing it by the beach, not caring that it's gotten salty and wet, because i can totally make another one in like less than 5 minutes flat when i get home.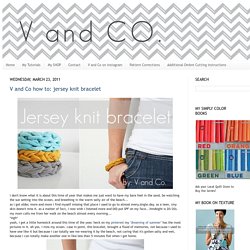 V and Co how to: jersey knit bracelet
BritishBeautyBlogger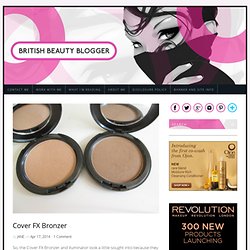 Cover FX Bronzer So, the Cover FX Bronzer and Iluminator look a little sought into because they are! Florrie White kindly lent me hers from her make-up kit because there weren't any samples at the launch I attended. I fell in love with both of these beauties straight away and wanted to strike while the iron was hot....
Blog de Goanna
♡ Pompitas de Algodón ♡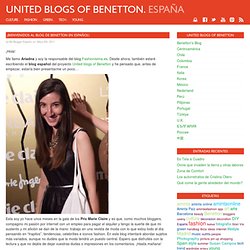 ¡Bienvenidos al blog de Benetton en español! | España
¡Hola! Me llamo Ariadna y soy la responsable del blog Fashionisima.es. Desde ahora, también estaré escribiendo el blog español del proyecto United blogs of Benetton y he pensado que, antes de empezar, estaría bien presentarme un poco… Esta soy yo hace unos meses en la gala de los Prix Marie Claire y es que, como muchos bloggers, compagino mi pasión por internet con un empleo para pagar el alquiler y tengo la suerte de que mi sustento y mi afición se dan de la mano: trabajo en una revista de moda con lo que estoy todo el día pensando en "trapitos", tendencias, celebrities e iconos fashion.
Daisy Chain
Prêt-à-Pordioser
Ahí va! Mesaorvidao la leche puesta! La verdad que hacía tiempo que quería hablar de Jean Charles de Castelbajac, ese hombre de mente compleja y colorida (los artistas son así) que paradójicamente vive en un perpétuo estilo elegante (porque él puede hacer mamarracherías pero vengan a mí los trajes de otros), cuyas creaciones extravagantes y poco ponibles en lo general no dejan indiferente a nadie.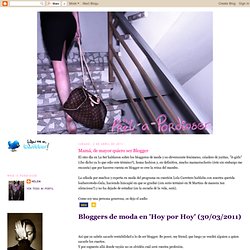 The Rantings of a Shopaholic
Last night was the 2014 Academy Awards and the big winners were Gravity, 12 Years a Slave and Dallas Buyers Club. I was greatly underwhelmed by the red carpet looks this year. It seems everyone takes fashion risks for the Golden Globes but they fall short of fabulous of the Oscars.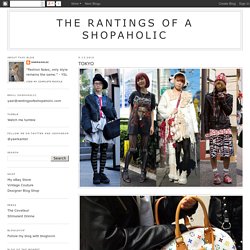 On today´s deco post I share with you a selection of some interiors that really inspire me. They are simple and very easy to get. Clean Spaces work best, you need not to fill your house to give personality to any space. The interior designs that I share with you today are a good example of this. Hope you enjoy it. Kisses and have a nice Saturday girls!!
Mi armario en ruinas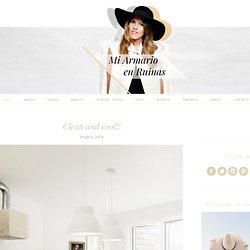 Hace ya un tiempo, que se habla muchísimo en los blogs sobre el Masking Tape, seguro que no os descubro nada nuevo. Ya sabréis que es un material muy fácil de usar y súper decorativo, solo mirarlo ya te dan ganas de colocarlo por todas partes. Pero hace unos meses descubrí el blog más inspirador de todos los tiempos, el blog de Ishtar Olivera (tampoco aquí os descubro nada nuevo seguro, muchas ya la conoceréis). Con sus cuidadas imágenes, y esa forma de redactarlo todo, que te engancha, y tuvo un especial de Masking Tape, os advierto, sino lo habéis leído ya, que corréis el riesgo de querer comprar grandes cantidades de estas preciosidades, y pegarlas por todas partes :) Yo compré estos, en la tienda que ella misma recomendaba jiji, están sin estrenar, me quedo embobada mirándolos, son taaaan bonitos: Como ella misma dice, sin usar, ya son decorativos, no crees??
Akumota Tonturas
mes caprices belges: decoración , interiorismo y restauración de muebles
DEKOLOR
Mrs Boho
Decoración, fiestas y manualidades varias. Rebeca Terrón
Thestreetfashion5xpro
Street Style Aesthetic
b a r t a b a c
The cherry blossom girl
NORITAKA TATEHANA Blog
NICOLA FORMICHETTI'S BLOG!!
glamcanyon
Angy's tea room
Easy Fashion