Beauty
Check your cosmetics! Cosmetic products which shelf life is less than 30 months must be marked with "Best before" date according to common regulations in the most of the countries. Such products can no longer meet safety requirements as soon as expiry date has been passed. It's not mandatory to have such labeling for the cosmetic products which shelf life exceeds 30 months. Most of such products should not be harmful even after the expiration; but they can change smell, color, texture or simply become useless.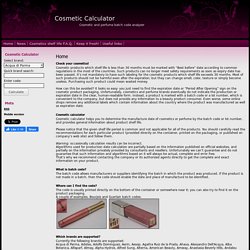 Find cosmetics production and expiry date by the batch code
osMoz.com, una nueva Mirada sobre el perfume
Retro Spectacles Eyewear - Retro, Vintage Eyeglasses & Sunglasses     1800's style eyeglasses are perfect for Civil War Reenactors!  Looking for 1950's, 1960's, 1970's, 1980's eyewear?            We have them!
Rare! Marilyn Monroe "The Last Days" Subt. en Español 3/9
Hairstyles & Haircuts | Short , Medium , Long Hair Styles and Cuts
Belleza y cosmética. Arrebatadora.
Muchas veces acabamos hartas de las interminables series de abdominales tradicionales (tumbadas boca arriba y levantando la parte superior de nuestro tronco); no sólo eso, sino que en muchas ocasiones debido a una mala técnica acabamos por hacernos daño en el cuello o sobrecargando las lumbares. Por eso, en Trendencias Belleza nos hemos preocupado de daros algunas alternativas como, por ejemplo, el plank abdominal del que hablamos hace tiempo. Hoy os traemos otra alternativa más, pero en este caso mucho más divertida y que hará que nos sintamos como niñas por unos momentos: el hula-hoop. Este juguete gozó de una gran popularidad en los años 50, pero yo recuerdo jugar con él cuando era una niña (y no soy tan mayor, ¿eh?). El aro o hula-hoop nunca ha pasado de moda, de hecho son muchas las tiendas que lo comercializan hoy en día.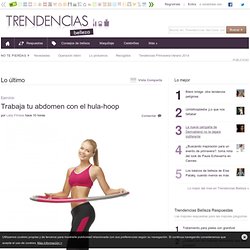 Estée Lauder France - Site officiel
Plancha Glam Black de SO.CAP. España en Secadores y planchas - Planchas en bellezaPRO.com Estética y Peluquería Profesional en bellezaPRO.com
Izzy's Perfume & Beauty Shoppe ~ Your Source for Beauty