Sort - Self Hacks/Productivity
Productivity/Quantified Self/Life Hacks/Etc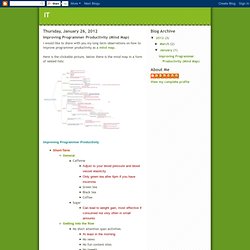 Improving Programmer Productivity (Mind Map)
I would like to share with you my long term observations on how to improve programmer productivity as a mind map. Here is the clickable picture, below there is the mind map in a form of nested lists: Improving Programmer Productivity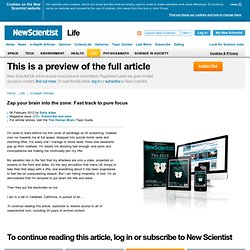 I'm close to tears behind my thin cover of sandbags as 20 screaming, masked men run towards me at full speed, strapped into suicide bomb vests and clutching rifles. For every one I manage to shoot dead, three new assailants pop up from nowhere. I'm clearly not shooting fast enough, and panic and incompetence are making me continually jam my rifle. My salvation lies in the fact that my attackers are only a video, projected on screens to the front and sides. It's the very simulation that trains US troops to take their first steps with a rifle, and everything about it has been engineered to feel like an overpowering assault.
Burnout Is Real: How to Identify and Address Your Burnout Problem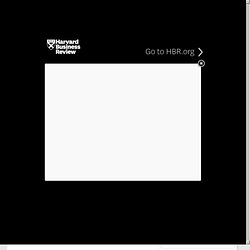 I want to write a screenplay. I wanted to write one last year, but other work took more time than I expected, and I kept pushing "write screenplay" off my to-do list. I know I'm not alone in struggling to make incremental progress on long-term projects or goals. How do you get started when you have "all the time in the world"?
Two doctors at Penn State University have developed Caffeine Zone, a free iOS app that tells you the perfect time to take a coffee break to maintain an optimal amount of caffeine in your blood — and, perhaps more importantly, it also tells you when to stop drinking tea and coffee, so that caffeine doesn't interrupt your sleep. You've probably heard of being "in the zone" — a period where your brain is firing on all cylinders and no obstacle seems insurmountable — but did you know that there's an optimal "caffeine zone" too? To find the boundaries of this zone, the authors of the app, doctors Frank E. Ritter and Kuo-Chuan Yeh, pored through peer-reviewed studies.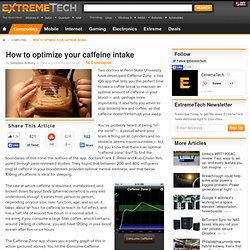 How to optimize your caffeine intake
Nootropics
Please enable JavaScript for proper rendering of mathematical equations. A record of nootropics I have tried, with thoughts about which ones worked and did not work for me. These anecdotes should be considered only as anecdotes, and one's efforts with nootropics a hobby to put only limited amounts of time into; for an ironic counterpoint, I suggest the reader listen to a video of Jonathan Coulton 's I Feel Fantastic while reading. Your mileage vary. There are so many parameters and interactions in the brain that any of them could be the bottleneck or responsible pathway, and one could fall prey to the common U-shaped dose-response curve (eg.
A record of nootropics I have tried, with thoughts about which ones worked and did not work for me. These anecdotes should be considered only as anecdotes, and one's efforts with nootropics a hobby to put only limited amounts of time into due to the inherent limits of drugs as a force-multiplier compared to other things like programming; for an ironic counterpoint, I suggest the reader listen to a video of Jonathan Coulton's I Feel Fantastic while reading. Your mileage will vary.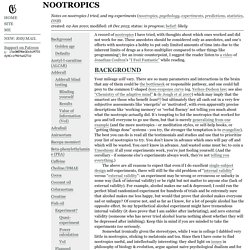 Nootropics
SNPs Side effects Tolerance Legal risk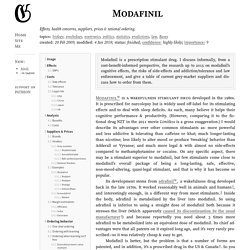 Modafinil
index