Scaling/Big Data/Distributed/Etc | Technology Topics
Get flash to fully experience Pearltrees
Big Data University | Big Data/Etc
Web Caching/Accelerating/Proxy/Etc | Tech Topics
Each J.J. Abrams' TV series Person of Interest episode starts with the following narration from Mr.
This is a guest post by Doug Judd , original creator of Hypertable and the CEO of Hypertable, Inc.
In this article I digested a number of MapReduce patterns and algorithms to give a systematic view of the different techniques that can be found on the web or scientific articles. Several practical case studies are also provided. All descriptions and code snippets use the standard Hadoop's MapReduce model with Mappers, Reduces, Combiners, Partitioners, and sorting.
Nowadays, Hadoop has become the key technology behind what has come to be known as "Big Data".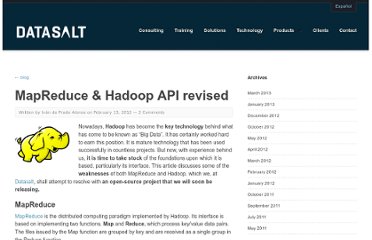 "Give me a lever long enough… and I shall move the world" — Archimedes Parallelism is computing's leverage, a force multiplier acting against the weight of big data.
In a previous blog post we introduced the distributed indexing and query processing infrastructure we call Druid.
When I'm not writing science fiction novels , I work on web apps for a largish company *.
Scaling, in terms of the internet, is a product or service's ability to expand exponentially to meet need. There are two types of scalability: vertical scalability is the traditional and easiest was to expand – by upgrading the hardware you already own, and horizontal scalability is where you create a network of hardware which can expand (and contract) to suit demand at a given time. Let's all face it: the internet is only going to get bigger.
500,000 requests/sec – Modern HTTP servers are fast