Productivity/Quantified Self/Life Hacks/Etc
Be Successful First Thing in the Morning – Dextronet.com Blog
Again and again, it is proving to me that if I begin my day by immediately doing the most important goal for that day, the day will be a tremendous success. How about your pet project?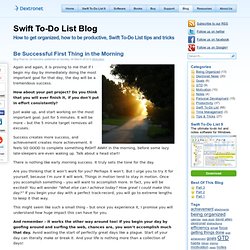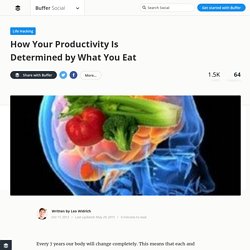 The science behind how your productivity is chosen by what you eat
2.7K Flares Filament.io 2.7K Flares ×
tDCS/Transcranial Direct Current Stimulation | Life Hacks/Etc
Biofeedback, Brain hacking [brmlab]
Tools | Quantified Self Guide
Digifit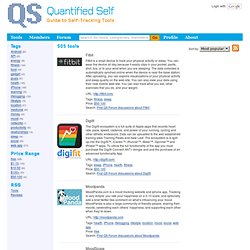 John Amschler
Gadget - Tools | Quantified Self Guide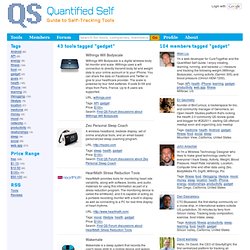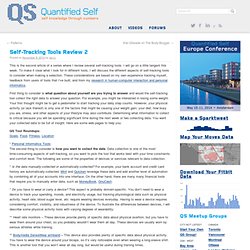 This is the second article of a series where I review several self-tracking tools. I will go on a little tangent this week. To make it clear what I look for in different tools, I will discuss the different aspects of self-tracking tools to consider when making a selection.
Self-Tracking Tools Review 2 | Quantified Self Guide
Trackers/Data Gatherers/Etc
Now that it's almost two years since I first had the idea for Buffer, and with the year and a half before that which I worked on my previous startup, I've started to notice a few patterns amongst the ups and downs that come with building a startup. One of the most important things I've learned during this time is that I perform the best when I'm happy.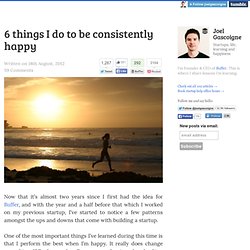 6 things I do to be consistently happy
Productivity vs. Guilt and Self-Loathing
Why I Don't Do Unpaid Overtime and Neither Should You | The Codist
Published: 02/26/2012 As a programmer in the U.S. for 30 years now I have spent some of that time working more than 40 hours in a week, which is not all that common in this industry, and when I was salaried I rarely if ever got more pay.
What The Most Successful People Do Before Breakfast
Mornings are a great time for getting things done. You're less likely to be interrupted than you are later in the day. Your supply of willpower is fresh after a good night's sleep.
We're all busy people.
7 Ways to Leverage Your Time to Increase Your Productivity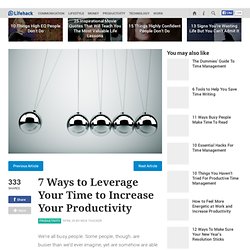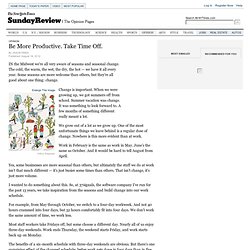 Change is important. When we were growing up, we got summers off from school.
Be More Productive. Shorten the Workweek.
"Work harder on yourself than you do on your job." - Jim Rohn
Work harder on yourself than you do on your startup
The Naive Optimist • How I manage my todos, priorities and calendar
I find it a constant battle to keep my priorities straight. There's always 100+ things pulling at my attention and if I'm not super-focused, I end up working on stuff that doesn't matter. My top three priorities are …
Dehydration (Brain Fog/Etc)
In this post, you are going to learn proven techniques that you can immediately put to use. I am going to show you exactly how you can: Decrease your IQ by 10 points while workingMake sure you won't accomplish anythingIncrease your stress levels by at least 100% or moreGet completely overwhelmed
How to murder your productivity – Dextronet.com Blog
This is a quick post, something that I have to get out of my mind and onto paper (err, the internets!). I was thinking earlier today about what makes me happy--really, truly happy. I had just stopped coding, and was feeling frustrated that my builds weren't working like I had hoped. I decided to go onto IRC for some procrastination, and ended up chatting with a really good friend.
Never Stop Hacking
Selfspy
Design Your How: Set Three Goals - The Industry
Last week we talked about the importance of having predictable 'office hours.' They're important for your productivity and for your sanity. But they're only important for your productivity if you actually do important work during the hours you set.
The Magic of Doing One Thing at a Time - Tony Schwartz
Switching From Coffee to Caffeine Pills
Sort - Self Hacks/Productivity
Health/Healthy/Health Food Info/Diets | Food
The quantified self: Counting every moment
Quantified Self | Self Knowledge Through Numbers
The Quantifiable Self
The rise of programmable self
Automate Your Most Annoying Errands with These Tools
Are You a Zen Coder or Distraction-Junkie? « Owl's Blog on .NET development
Zeo sleep experiments
Coffee
Ability to Learn Is Affected by the Timing of Sleep: Scientific American Podcast
Modafinil and startups