Performance/Speed/Bottlenecks/Etc | WebDev Topics
Andyedinborough/stress-css. Why you should care about CSS page performance. Development: The estimated time to read this article is 5 minutes If there's one thing I've learned over the years as both a user and creator of websites, it's that performance matters.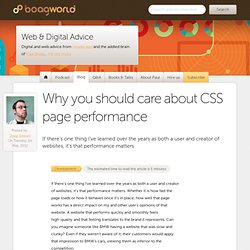 Whether it is how fast the page loads or how it behaves once it's in place, how well that page works has a direct impact on my and other user's opinions of that website. A website that performs quickly and smoothly feels high-quality and that feeling translates to the brand it represents.
Pagespeed | Google
Making a Fast Website. It's always been important to make your website fast.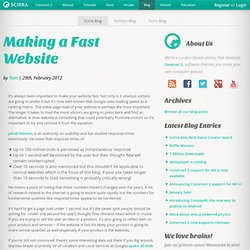 Not only is it obvious visitors are going to prefer it but it's now well-known that Google uses loading speed as a ranking metric. The initial page load of your website is perhaps the most important. The longer it takes to load the more visitors are going to press back and find an alternative. A slow website is something that could potentially frustrate visitors so it's important to try and remove it from the equation.
Jakob Nielsen is an authority on usability and has studied response times extensively. Closure Compiler Service. Defer Attribute (Chrome) Best Practices for Speeding Up Your Web Site. The Exceptional Performance team has identified a number of best practices for making web pages fast.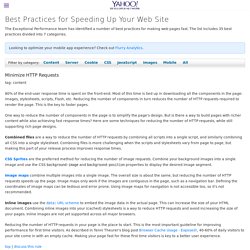 The list includes 35 best practices divided into 7 categories. Minimize HTTP Requests tag: content. JavaScript Performance. Last night I spoke at the San Francisco JavaScript Meetup .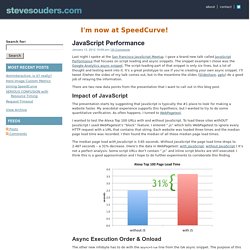 I gave a brand new talk called JavaScript Performance that focuses on script loading and async snippets. The snippet example I chose was the Google Analytics async snippet . The script-loading part of that snippet is only six lines, but a lot of thought and testing went into it. It's a great prototype to use if you're creating your own async snippet. Eliminating the CSS bottleneck | Blaze.io. A big part of accelerating websites is eliminating bottlenecks.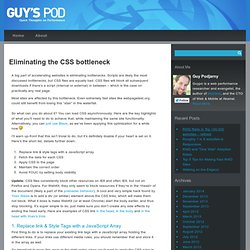 Scripts are likely the most discussed bottlenecks, but CSS files are equally bad. CSS files will block all subsequent downloads if there's a script (internal or external) in between – which is the case on practically any real page. Which browsers support <script async="async" />
Testing/Speed Test/Etc | Webdev
---