Node.js | Javascript - Platforms
Why should I get started with Node.js? - rain
« Home / All Guides
Felix's Node.js Convincing the boss guide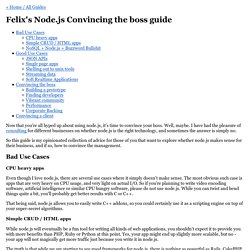 Node.js PaaS: Nodejitsu (part 1 of 3) - startups & node.js
Max Ogden Blogotronz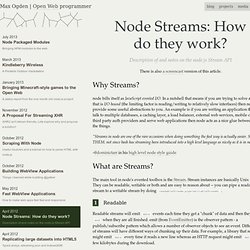 Description of and notes on the node.js Stream API
Posted on 29 September 2010 I was lucky enough to have a short chat with Ryan at JSConf.eu last weekend in Berlin about the memory allocation comparison between Node.js and RingoJS I had done. He didn't have any suggestion for tuning Node.js or V8 for higher memory and garbage collector throughput, but thought it was possible that Node's lackluster performance in the benchmark had to do with binary buffers and getting data in and out of them. Thinking about a memory and garbage collection benchmark that didn't involve buffers quickly led me to JSON.
Update on my Node.js Memory and GC Benchmark - Hannes Wallnöfer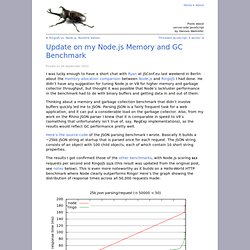 Recently I have been looking around the internet for various info about Node.js. At first, my intent was to make some sort of infographic on the topic, but later I have changed my mind.
My Node.js Linksheet - Progstr Filer
anode@microsoft
Staying up with Node.JS
To many beginner Node.JS users, a fundamental and immediate apparent disadvantage of writing their web applications with Node.JS lies in the inability to save a file, refresh the browser and see their changes live. This "problem" is rooted of course in significantly different architectures.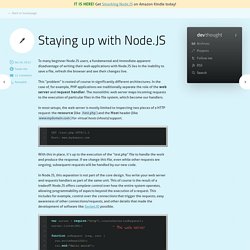 Plugins/Modules/Etc | node.js
Tutorials/Guides/Etc | node.js
NodeUp | A Node.js Podcast
Nodebits - Bits of inspiration to keep the node spirit alive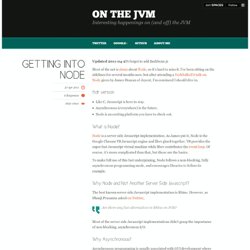 Updated 2011-04-27: forgot to add Backbone.js
Getting into Node | On the JVM
joyent/node - GitHub