jQuery/jQuery UI
appendTo is leading a project to create the jQuery Mobile Cookbook to be published by O'Reilly, and you can contribute. The book will be collaboratively written by jQuery Mobile community experts. Similar to the jQuery Cookbook, the jQuery Mobile Cookbook will collect and organize everyday solutions into small chunks so it can be the go-to reference for jQuery Mobile developers. We are currently seeking members of the community to contribute to this project. If you've been working with jQuery Mobile, you've got knowledge to share. No experience is necessary, just the desire and commitment to help with this project.
jQuery Mobile Cookbook
Articles/etc | jQuery/jQueryUI
What is jQuery? jQuery is a fast, small, and feature-rich JavaScript library. It makes things like HTML document traversal and manipulation, event handling, animation, and Ajax much simpler with an easy-to-use API that works across a multitude of browsers. With a combination of versatility and extensibility, jQuery has changed the way that millions of people write JavaScript.
jQuery UI is a curated set of user interface interactions, effects, widgets, and themes built on top of the jQuery JavaScript Library. Whether you're building highly interactive web applications or you just need to add a date picker to a form control, jQuery UI is the perfect choice. What's New in jQuery UI 1.10? jQuery UI 1.10 includes dozens of bug fixes and improved accessibility. In addition, the dialog and progressbar widgets have undergone API redesigns, making them easier to use and creating more consistency across plugins. Interested in the full details of what changed?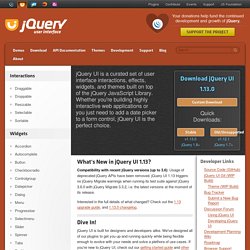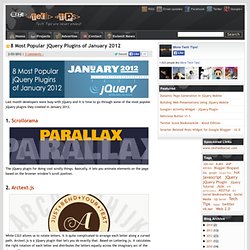 Last month developers were busy with jQuery and it is time to go through some of the most popular jQuery plugins they created in January 2012. 1. Scrollorama The jQuery plugin for doing cool scrolly things. Basically, it lets you animate elements on the page based on the browser window's scroll position. 2.
8 Most Popular jQuery Plugins of January 2012