iTunes
MrRaffnix/itunes-api
iTunes API | iTunes Store web service | iTunes Connect | iTunes Connect Reports | iTunes Reviews
Linking Tools | iTunes - Partner Programs
Enterprise Partner Feed Relational | iTunes, App Store, iBookstore, and Mac App Store Affiliate Resources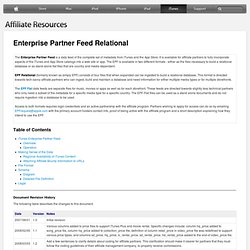 Table of Contents Document Revision History The following table describes the changes to this document. iTunes Enterprise Partner Feed
Introduction - Enterprise Partner Feed | iTunes, App Store, iBookstore, and Mac App Store Affiliate Resources
The Enterprise Partner Feed, known as the "EPF", is a data feed of every piece of meta data in the iTunes and App Store. This advanced tool is available to partners who need programmatic access to a large amount of data and have the technical expertise to handle the challenge. Properly integrated the data feed is used to populate a relational database that the affiliate partner can then query at will for descriptions, pricing, links, cover art, last updated and many other relevant pieces of information.
RSS Generator
iTunes - Partner Programs - Affiliates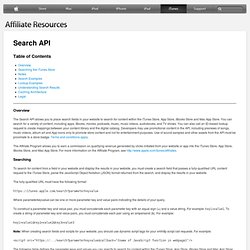 iTunes, App Store, iBookstore, and Mac App Store Affiliate Resources - Search API
Table of Contents Overview The Search API allows you to place search fields in your website to search for content within the iTunes Store, App Store, iBooks Store and Mac App Store. You can search for a variety of content; including apps, iBooks, movies, podcasts, music, music videos, audiobooks, and TV shows.
The Search API is the easiest advanced affiliate tool to start using and is the logical next step for sites looking to implement an automated way to generate links. This affiliate tool works by submitting a query into Apple as a specially designed URL, the page that then loads are the results from your query in JSON (JavaScript Object Notation) format. The Search API doesn't require an account to use so after a quick review of the Search API documentation you can immediately start working with it. Two different types of searches are possible using the Search API.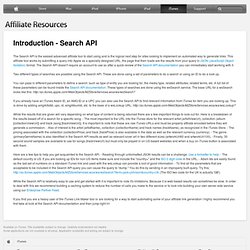 iTunes, App Store, iBookstore, and Mac App Store Affiliate Resources - Introduction - Search API