Dehydration (Brain Fog/Etc)
Human Water Requirement Calculator. This converter requires the use of Javascript enabled and capable browsers.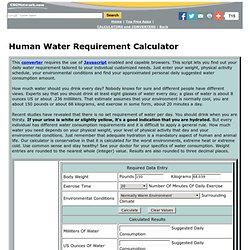 This script lets you find out your daily water requirement tailored to your individual customized needs. Just enter your weight, physical activity schedule, your environmental conditions and find your approximated personal daily suggested water consumption amount. How much water should you drink every day? Nobody knows for sure and different people have different views. Brain fog - modern epidemic? Another Reason For Feeling Tired All the Time- Dehydration. Another Reason for Feeling Tired - Dehydration by Catherine Pratt www.Life-With-Confidence.com While I was reading through a course recently, I saw a reason for why you may be feeling tired.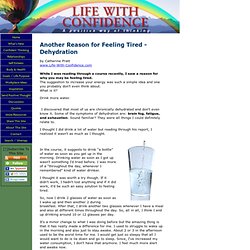 The suggestion to increase your energy was such a simple idea and one you probably don't even think about.What is it? Drink more water. I discovered that most of us are chronically dehydrated and don't even know it. Foggy Brain Quick Fixes. Do you ever get the feeling that your brain has a thick layer of fog surrounding it?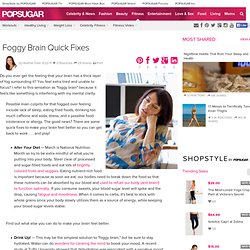 You feel extra tired and unable to focus? I refer to this sensation as "foggy brain" because it feels like something is interfering with my mental clarity. How To Get Rid Of Brain Fog – Tips For Getting Rid Of Brain Fog. We have all been there.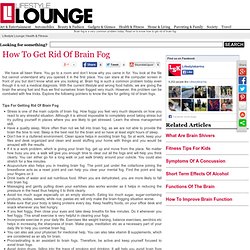 You go to a room and don't know why you came in for. You look at the file but cannot understand why you opened it in the first place.
---