Bitcoin Mining | Bitcoin, Finance, Etc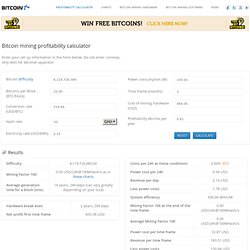 Results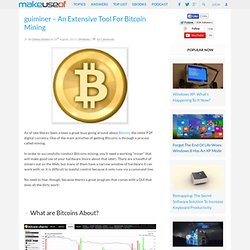 guiminer – An Extensive Tool For Bitcoin Mining
In order to successfully conduct Bitcoins mining, you'll need a working "miner" that will make good use of your hardware (more about that later). There are a handful of miners out on the Web, but many of them have a narrow window of hardware it can work with, or it is difficult to (easily) control because it only runs via a command line.
Category:Mining
Bitcoin Difficulty: 3,054,628
Bitcoin Mining Update: Power Usage Costs Across the United States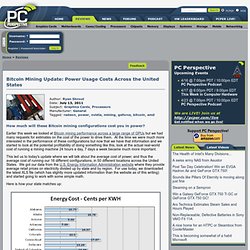 Earlier this week we looked at Bitcoin mining performance across a large range of GPUs but we had many requests for estimates on the cost of the power to drive them. At the time we were much more interested in the performance of these configurations but now that we have that information and we started to look at the potential profitability of doing something like this, look at the actual real-world cost of running a mining machine 24 hours a day, 7 days a week became much more important.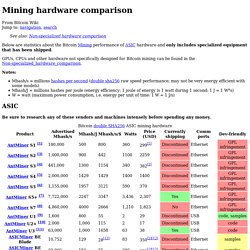 Below are some statistics about the mining performance of various hardware used in a mining rig. Notes: Mhash/s = millions hashes per second (raw speed performance; may not be very energy efficient with some models) Mhash/J = millions hashes per joule (energy efficiency; 1 joule of energy is 1 watt during 1 second: 1 J = 1 W*s) W = watt (maximum power consumption, i.e. energy per unit of time: 1 W = 1 J/s)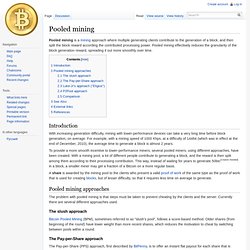 Pooled mining is a mining approach where multiple generating clients contribute to the generation of a block, and then split the block reward according the contributed processing power.
Pooled mining
GUI mining - updated Feb 19 with poclbm bugfix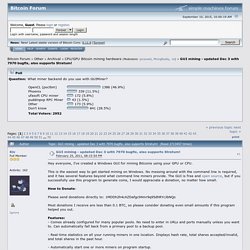 Hey everyone, I've created a Windows GUI for mining Bitcoins using your GPU or CPU.