Articles/etc | Webdev
Get flash to fully experience Pearltrees
Design : The estimated time to read this article is 7 minutes Jeff from Brighton recently wrote to me asking: Occasionally I hear you talk about the importance of having a call to action on the show but you never go into much depth. I recognise the importance of having a call to action but how do I encourage users to complete them? Having an effective call to action is an essential part of any website.
The other day I received a tweet from Marcos Navarro about CSS-only click events without using JavaScript. I told him about the :target method, but he could not use that for what he was trying to accomplish. Unfortunately, this CSS-only approach didn't really work for his needs. However, there is a lot of cool stuff you can do with this method.
If you have programming or Computer Science experience, want to take the plunge into web development, and don't know where to start, then start here. Before you signup for Pusher and Twilio and start copying and pasting Ruby and JavaScript code, you should have a firm understanding of how the many pieces and layers of your first webapp work together. While not required, I recommend the following pre-reqs: Buy a Mac or install Ubuntu on your dev machine Read The Pragmatic Programmer Learn Vim or Emacs Learn Git & make a GitHub account Use Firefox with the Firebug extension or Google Chrome for development
We are now squarely in the age of HTML5; or the age of HTML5, JavaScript, and CSS3, if you prefer. That being the case, it amazes me that for those poor souls who are new to the world of front-end development, there is little written on what their developer workflow might look like. With them in mind, I am offering up a starting point, based on my own experience and preferences. EDIT: I just added all of the links mentioned in this article to my Master List of HTML5, JavaScript, and CSS Resources . Be sure to check it out and submit your favorite links.
Eric Bidelman Legend: Not quite ready. Keep it on your radar. Relevant Chrome/WebKit bug.
The Edge of HTML5 Eric Bidelman · Legend: Not quite ready.
Your visitors may stumble into a 404 "Not found" page on your website for a variety of reasons: A mistyped URL, or a copy-and-paste mistake Broken or truncated links on web pages or in an email message Moved or deleted content Confronted by a 404 page, they may then attempt to manually correct the URL, click the back button, or even navigate away from your site. As hinted in an earlier post for "404 week at Webmaster Central" , there are various ways to help your visitors get out of the dead-end situation. In our quest to make 404 pages more useful, we've just added a section in Webmaster Tools called "Enhance 404 pages". If you've created a custom 404 page this allows you to embed a widget in your 404 page that helps your visitors find what they're looking for by providing suggestions based on the incorrect URL.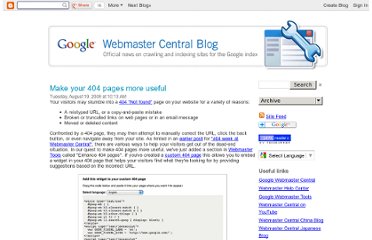 "Touch icons" are the favicons of mobile devices and tablets. Adding them to your web page is easy, and I'm sure you already know how this works using HTML: <!-- In its simplest form: --> <link rel = "apple-touch-icon" href = "apple-touch-icon.png" > (It's a shame Apple didn't just implement the standard <link rel = icon > and chose to come up with a more verbose proprietary link relation instead.) Apple iOS has supported touch icons since iOS 1.1.3.