Articles/Etc | Framework/Template/Etc
Get flash to fully experience Pearltrees
A week ago was the Throne of JS conference in Toronto, perhaps the most interesting and different conference I've been to for a while. Quoting its website: It's no longer good enough to build web apps around full page loads and then "progressively enhance" them to behave more dynamically. Building apps which are fast, responsive and modern require you to completely rethink your approach. The premise was to take the seven top JavaScript frameworks/libraries for single-page and rich JavaScript applications — AngularJS, Backbone, Batman, CanJS, Ember, Meteor, Knockout, Spine — get the creators of all of them in one location, and compare the technologies head to head
Versus/Vs | Articles - Frameworks/Etc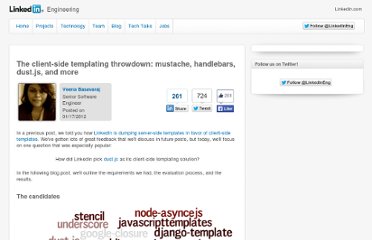 In a previous post, we told you how LinkedIn is dumping server-side templates in favor of client-side templates . We've gotten lots of great feedback that we'll discuss in future posts, but today, we'll focus on one question that was especially popular: How did LinkedIn pick dust.js as its client-side templating solution?
UPDATE 1/14/2012: Added Batman.js and Angular.js due to popular demand and because they looked impressive.
Today we cover some best jQuery and HTML5 framework using for develop mobile applications.
The Great Web Framework Shootout