05/04/2012 - DropZone
Get flash to fully experience Pearltrees
By Jon Clinkenbeard .
Continuing the Chrome extension hacking (see part 1 and 2 ), this time I'd like to draw you attention to the oh-so-popular AdBlock extension. It has over a million users , is being actively maintained and is a piece of a great software (heck, even I use it!). However - due to how Chrome extensions work in general it is still relatively easy to bypass it and display some ads.
Editor's Note: This guest post is written by Nir Eyal , a founder of two startups and an advisor to several Bay Area companies and incubators. Nir blogs about technology and behavior engineering at nirandfar.com .
Update: This post made it to #5 on Hacker News, thanks everyone!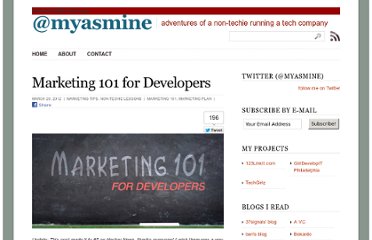 Note: This post originally appeared in TechCrunch
This is a guest post by Sacha Greif – a designer and entrepreneur who recently sold thousands of copies of a self-published eBook that shows how to design a user interface step by step .
Sydney 2012 The Founder Institute offers a weekly curriculum of company-building sessions designed to help entrepreneurs think through every aspect of their business, from the core idea to the revenue model. Each weekly session is lead by three startup CEO Mentors , who share their unique and often differing opinions on the topic, and provide our founders with expert feedback and advice.