Fantasy
Hi guys and girls, I'm back with another spotlight-post, including an excerpt of the book in question. And so, having joined the virtual book tour promoting the novel, here it is! Here's the blurb:
DaveBrendon's Fantasy & SciFi Weblog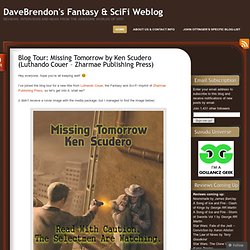 Science Fiction Books, Fantasy Books, Horror Books, and Book Reviews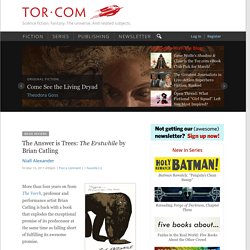 Science Fiction and Fantasy Books, News, Stories, Forum
Time is running out for undercover coppers Tony Costain and Kevin Sefton in Paul Cornell's new novel . For years they've been working on exposing Rob Toshack for the kingpin of crime he undoubtedly is, but now that they've infiltrated the upper echelons of his organisation, the powers that be declare an imminent deadline: come hell or high water, they're to take him at midnight tonight. But to date, their target's been smart. The Met, for all their efforts, still don't have anything solid to hold him on.
Crime Fiction Authors, Murder Mystery Books, Thriller Novel Reviews &True Crime
Dark Wolf's Fantasy Reviews
© The artwork presented on this post is used with the permission of its author. All the artwork is copyrighted. Please do not use the images without the permission of the artist or owner.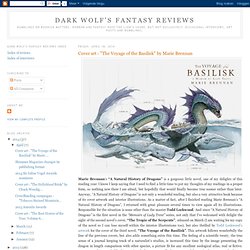 Feature articles from Issue 225. August 2012. The Dark Knight Rises (Mark's take)01/08/2012. Batman is pulled out of his self-imposed retirement to face two villains. Bane is a big bull of a man in a really ugly mask. The other is Catwoman, particularly attractive in her skin-tight suit.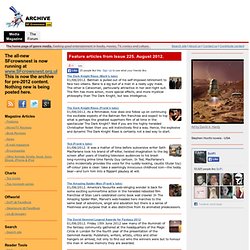 SFcrowsnest.com science fiction, fantasy, scifi and horror.
The View from the Blue House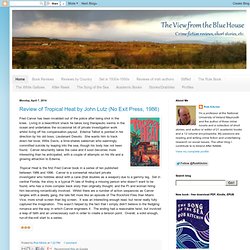 In Software Takes Command, Lev Manovich provides a compelling account of how all forms of cultural media have become produced through software. In so doing, he contends: '[s]oftware has become our interface to the world, to others, to our memory and our imagination - a universal language through which the world speaks, and a universal engine on which the world runs' (p. 2). Such arguments have been made in the nascent software studies literature for a number of years, with proponents suggesting that given the extent to which software now conditions everyday life it deserves to be examined in its own right as a significant actant and theoretical category (e.g., Fuller 2008, Chun 2011, Kitchin and Dodge 2011). As Manovich puts it in a book proposal co-written with Benjamin Bratton in 2003,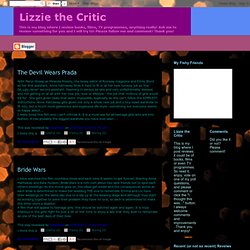 This film has a promising new talent from Jaden Smith, who is following in the footsteps of his father, Will Smith (see I, Robot) Although this film is called the karate kid, it has ahd a lot of criticism for not having any karate in it, only kung fu. But for me, whose knowledge of martial arts extends to a few lessons in Tai Chi, it didn't make a difference to the amazing quality of the film and I doubt many people would disagree.Jaden Smith wants to learn Kung Fu and persuades the caretaker (Jackie Chan) to teach him. With amazing scenes throughout China, including on the Great Wall of China, and unbelievable Kung Fu from both actors, this film is sure to be a huge hit with teenagers and with people who have watched the original Karate kid. I really enjoyed it and I hope to get it on DVD when it comes out.An amazing film of karate and a true friendship.
Lizzie the Critic
As most of you know, I've had a lot of computer problems in the past few months and I'm pleased to say that I've finally got my main laptop back and I'm all caught up with tour stuff. Hoorah. It is my main goal to try and answer e mails quicker and this is what I am *HOPING* to do now. As well as an update, I'm writing this post as it seems I'm going to have to get a little bit tougher with my approach to the tour site so please read the following... 1.
UKbooktours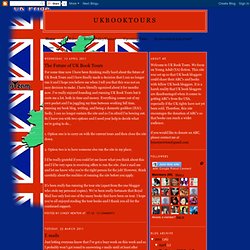 narrativelyspeaking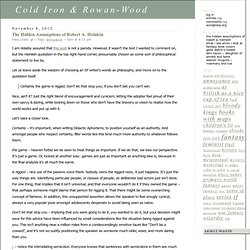 (Via) It's The Hobbit – in twelve minutes, from 1966. With a courageous princess (and love interest), no orcs, no riddles, no dwarves, a traditional Chosen One plotline, gorgeous Czech artwork, and a hobbit Macgyver. The changes are really interesting, and in some ways add a bit of coherence to the plot – but then again, part of the charm of The Hobbit is its bumbling, sprawling arbitrariness.
Cold Iron & Rowan-Wood
Books and Writers
Due out in hardback from Quercus on 9th May, The Cold Nowhere has already been described as 'As brilliant as Harlan Coben'(Daily Mail), 'A great read from a rising star in the crime genre' (Crimesquad) and, of its author, Lisa Gardner describes Freeman as 'A master of psychological suspense'. So, with just a matter of days before you can get to read what all the fuss is about in full, here's your first taster with the prologue from The Cold Nowhere: Prologue Despite the ribbons of blood on his face, which were as angry as war paint, the man on the bed was still breathing.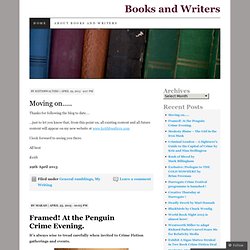 Our book reviews online
Review by The Mole The story of two sisters, two sisters, family, slavery and abolitionists. Living in Charleston slavery is a part of everyday life so when Sarah, on her 11th birthday, is given Hetty (also known as Handful) for a present it shocks and abhors people that she tries to refuse the gift. However they build up an unusual relationship for the time of a great friendship that lasts throughout their lives - lives that see Sarah and her sister Nina move to the North and become abolitionists and women's rights activists while Handful and her sister Sky try to run away to the North for freedom. The author's notes come at the back book and explain a little of the history.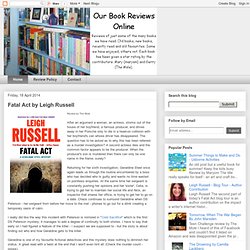 Summer is here (sort of) and that means we can read all the books we haven't managed to read yet this year! I have a few books I've read and a few which are on my radar so I thought I'd share some of them! First is A Tale for the Time Being by Ruth Ozeki which has been one of my favourite books this year and has just been longlisted for the Booker. A writer living on an island on the coast of Canada finds a Hello Kitty lunch box with a diary of a teenage girl named Nao, a watch and several letters written in Japanese. This is a fascinating book that will take you to Japan, will enlighten you about awesome Buddhist nuns, will make you think and dream and travel. The book is also about stories.
Portrait of a Woman
On The Nightstand • A Book Review Blog
Oh My Books!
Author: Mona Ingram Published September 19th 2012 Unlucky in love, Maddie LaRocque moves to Calgary at the urging of her former college roommate.
NextRead.co.uk
I'm very pleased to host debut Jennifer Ridyard who has just collaborated with John Connolly on the book Conquest talking about what it's like: Writing has always been a rather solitary craft – scribes starving in garrets, hermits penning great literary works, author retreats atop mountains, the alcoholic genius scribbling away in musty isolation until the pub opens… And then there's my first ever published book. Our book. The book I was lucky enough, and crazy enough, to write together with the man I share my house, dogs, children and life with, who just happens to be a bestselling author too.
What are you reading on Monday? is a weekly meme hosted by Sheila at Book Journey where you post books completed last week and plans for upcoming books. Jump over to her blog and see who else is participating. Read City Farm: Katie and the Ducklings by Jessie Williams
Nayu's Reading Corner
My Favourite Books
Each year, at the end of the year, I have an annual blowout online and in shops in advance of the new year and gearing up for reading in 20whatever it is. This year though, the blowout's tinged with a bit of sadness purely because this is the last year I'm doing it, using MFB as an excuse. From now onwards, my only excuse for buying far too many books one person with only one set of eyes and brain and can read is: I have a book problem. To illustrate this, I've decided to show you pictures of the books that I've bought and received as gifts in the past week alone. This is not bragging, it's more an admittance of being spoiled rotten. These are the "from me to me purchases" - please do not judge me by my random DVD purchases included in the pic.
Chrissie's Corner
Girls Without a Bookshelf
Fluttering Butterflies
Floor to Ceiling Books
The latest fantasy news | Fantasy Book Review
Ex Libris: About
About « A Striped Armchair