Chick Lit
one more page | diary of a book lover
She Reads Novels
Books « Helen Redfern
High Heels and Book Deals
Girls Without a Bookshelf
Even Butterflies Think
theBword
Seriously Kooky
Sarah's Book Reviews
Oh My Books!
Laura Loves Reading
Floor to Ceiling Books
Daisy Chain Book Reviews
Chicklish
Debs Riccio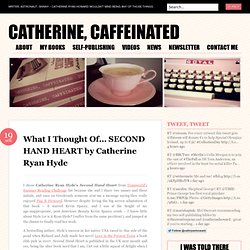 What I Thought Of… SECOND HAND HEART by Catherine Ryan Hyde « Catherine, Caffeinated
I chose Catherine Ryan Hyde's Second Hand Heart from Transworld's Summer Reading Challenge list because she and I share two names and three initials, and once on Goodreads someone sent me a message saying they really enjoyed Pay It Forward . However despite loving the big screen adaptation of that book – it starred Kevin Spacey, and I was at the height of my age-inappropriate, post- American Beauty Kevin Spacey crush – I knew little about Hyde (or is it Ryan Hyde? I suffer from the same problem!), and jumped at the chance to finally read her work.
Between the Pages