Semantic Web & Web 3.0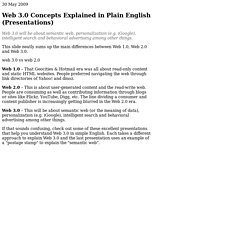 Web 3.0 will be about semantic web, personalization (e.g. iGoogle), intelligent search and behavioral advertising among other things. This slide neatly sums up the main differences between Web 1.0, Web 2.0 and Web 3.0. Web 1.0 – That Geocities & Hotmail era was all about read-only content and static HTML websites.
Introduction Although there are web modelling tools available it still needs vital attempt to adapt these tools for educational use. Research is needed into creation of Semantic Web models for educators to use in order to create learning objects and models. This educational modelling Research should focus on the creation of a web based knowledge administration system, and migration of simple models that are commonly created in spreadsheets to a shared learning environment. With the development of technologies under the broad terms of Semantic Web and Web 2.0 there are opportunities to create a extremely interactive web based learning environment. The constructionist arrival to insight problems is to learn about them by modelling them.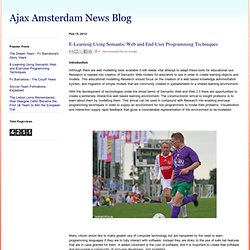 E-Learning Using Semantic Web and End-User Programming Techniques | Ajax Amsterdam News Blog