Tools - Gestión de la Información
The New Mindjet. Netvibes - Dashboard Everything. TemaTres: software libre para gestión de tesauros. Se han incorporados informes y reportes para elaborar indicadores de calidad sobre el vocabulario controlado Términos libres, términos sin relaciones jerárquicas, media de palabras por término, términos según cantidad de términos genéricos, términos según cantidad de términos específicos y profundidad, términos con palabras con prefijos o sufijos no admitidos... entre otros Auditoría de relaciones no permitidas entre términos y control de términos duplicados.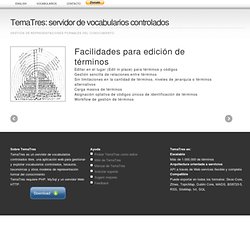 Business Process Management, BPM and Workflow Automation Solutions | BizAgi BPMS. XMind - Mind Mapping and Storming. KnowledgeTree Document Management Made Simple. Open Source Business Process Management (BPM) and Workflow Software : BonitaSoft.
CmapTools - Home Page Cmap.html. Personal Productivity and Collaboration Solutions that Visually Connect Ideas, Information and People - Mindjet. Clipping Tool Installed. Tools.
---