mLearning
M-Learning 101: I'll Take My Rapid E-Learning to Go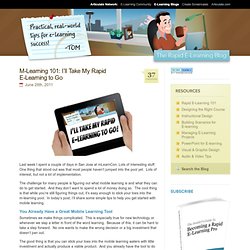 Last week I spent a couple of days in San Jose at mLearnCon. Lots of interesting stuff.
How should a modern organization factor in mobile devices and social technologies into their learning programs?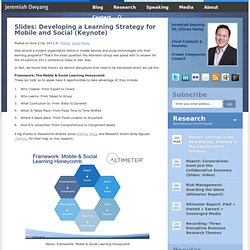 Slides: Developing a Learning Strategy for Mobile and Social (Keynote)
Jeremiah Owyang mLearnCon keynote mindmap
#mLearnCon 2011 Backchannel - Collected Resources
Last Update: 7/12The conference may be over but the backchannel continues! I will add a 'Date Added' to each new resource that is added to make it easier for return visitors to see what has bee added since their last viewing. If you know of any additional resources not shown here, please let me know.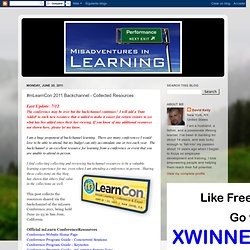 MLEARNING-WORLD.COM