mLearning
M-Learning 101: I'll Take My Rapid E-Learning to Go. Last week I spent a couple of days in San Jose at mLearnCon.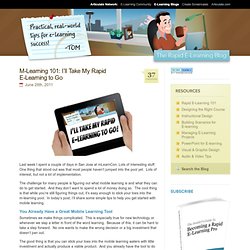 Lots of interesting stuff. One thing that stood out was that most people haven't jumped into the pool yet. Lots of interest, but not a lot of implementation. The challenge for many people is figuring out what mobile learning is and what they can do to get started. And they don't want to spend a lot of money doing so. Slides: Developing a Learning Strategy for Mobile and Social (Keynote) How should a modern organization factor in mobile devices and social technologies into their learning programs?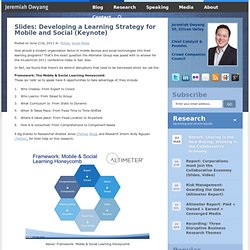 That's the exact question the Altimeter Group was posed with to answer for the mLearnCon 2011 conference today in San Jose. In fact, we found that there's six distinct disruptions that need to be harnessed which we call the: Framework: The Mobile & Social Learning Honeycomb These six 'cells' so to speak have 6 opportunities to take advantage of, they include: Who Creates: From Expert to CrowdWho Learns: From Siloed to GroupWhat Curriculum Is: From Static to DynamicWhen It Takes Place: From Fixed Time to Time-ShiftedWhere it takes place: From Fixed Location to AnywhereHow it is consumed: From Comprehensive to Component-based.
Jeremiah Owyang mLearnCon keynote mindmap. #mLearnCon 2011 Backchannel - Collected Resources. Last Update: 7/12The conference may be over but the backchannel continues!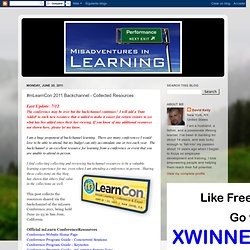 I will add a 'Date Added' to each new resource that is added to make it easier for return visitors to see what has bee added since their last viewing. If you know of any additional resources not shown here, please let me know. MLEARNING-WORLD.COM.
---