Clothing
DIY Ombré Denim. Dip dyed ombré denim has been popping up here and there and not only do we love the look, it's super easy to do yourself!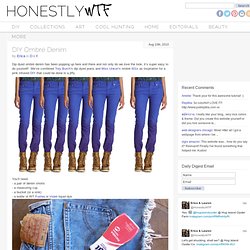 We've combined Tory Burch's dip dyed jeans and Miss Unkon's ombré 501s as inspiration for a pink infused DIY that could be done in a jiffy. Start by rinsing your shorts with water. A bottle of RIT liquid dye amounts to 1 cup; you'll dye your shorts with the lightest shade first and darkest shade last. Pour 1/3 of the cup of dye into 2 gallons of hot water and mix. When dyeing dark denim, you will want to use less water for a darker dye. DIY Shibori. Shibori is a Japanese term for methods of dyeing cloth by binding, stitching, folding, twisting, and compressing.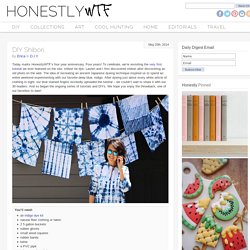 In Japan, the earliest known example of cloth dyed with the shibori technique dates back to the 8th century where indigo was the main dye used. We were immediately inspired by this fascinating technique, it's history and beauty. After much research, we decided to tackle 3 techniques of Shibori dyeing with an Indigo Tie Dye Kit, a few old white shirts and scarves, and several household items. DIY Turban. We've recently received several requests for a turban DIY and so, your wish is our command . . .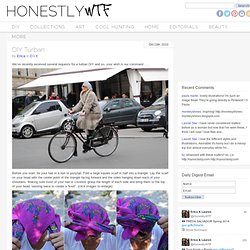 Before you start, tie your hair in a bun or ponytail. Fold a large square scarf in half into a triangle. Lay the scarf on your head with the center point of the triangle facing forward and the sides hanging down each of your shoulders. Making sure most of your hair is covered, grasp the length of each side and bring them to the top of your head, twisting twice to create a "knot". (click images to enlarge) DIY Bleach Tie Dye. Last summer, we were obsessed with shibori indigo tie dying.
No, really . . . we just about dyed anything white in sight. So when Free People asked us to include a DIY in their guest blogger series, we knew a new tie dye project was absolutely in order. And as the weather is beginning to warm up, what better time than now to start experimenting with reverse tie dye using bleach! Black tees and tops: watch out!
Ira Zvidrina – HowTo Wear (only) Your Boyfriends Shirt. DIY Color Blocked Pants. Color + block = the 2 words in fashion most commonly used this season.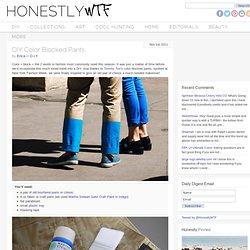 It was just a matter of time before we'd incorporate this much loved trend into a DIY. And thanks to Tommy Ton's color blocked pants, spotted at New York Fashion Week, we were finally inspired to give an old pair of chinos a much needed makeover! You'll need: DIY Bow Tie. A couple of weeks ago, we celebrated FNO by DIYing bow ties and neckties from scraps of denim at Madewell – because honestly, who isn't borrowing a bit of inspiration from the boys this season?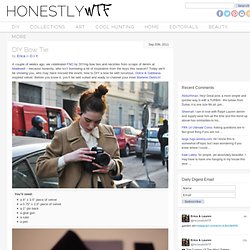 Today we'll be showing you, who may have missed the event, how to DIY a bow tie with luxurious, Dolce & Gabbana-inspired velvet. Before you know it, you'll be well suited and ready to channel your inner Marlene Dietrich! You'll need:a 6″ x 3.5″ piece of velveta 0.75″ x 2.5″ piece of velveta 1″ pin backa glue guna rulera pen.
---