Foreign Languages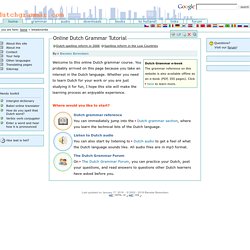 Dutch Grammar • Online Dutch Grammar Tutorial
Dutch Grammar e-bookThe grammar reference on this website is now also available as an e-book (PDF, 355 pages). Click here to learn more. Welcome to this online Dutch grammar course. You probably arrived on this page because you take an interest in the Dutch language. Whether you need to learn Dutch for your work or you are just studying it for fun, I hope this site will make the learning process an enjoyable experience. Where would you like to start?
Lexin - Swedish-English dictionary
Français interactif
Welcome to the new Fi community website News and important updates... Français interactif's developers are excited to announce a new website, Voices for Openness in Language Learning, http://sites.la.utexas.edu/voices/. Read stories of Open Educators who are using Français interactif and other OER in their classrooms and consider adding your own voice to support the open education movement!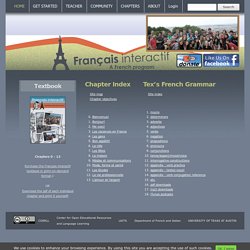 Dictionary, translation, definition | English, Spanish, German... | Collins
tyda.se - Välkommen till ett stort lexikon!
Bienvenue à l'Alliance
ItaLingua - The School of Italian Language and Culture in the San Francisco Bay Area
Dictionary / Wörterbuch (BEOLINGUS, TU Chemnitz)
Grand dictionnaire terminologique