Twitter
Tweet
Ping. My favorite sites using the Twitter API - Veronica Belmont. I've long been a fan of Twitter, and despite the many naysayers it has become an integral part of many peoples web existence.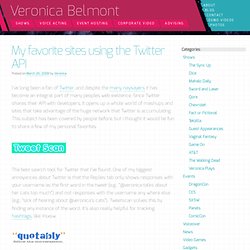 Since Twitter shares their API with developers, it opens up a whole world of mashups and sites that take advantage of the huge network that Twitter is accumulating. This subject has been covered by people before, but I thought it would be fun to share a few of my personal favorites. Welcome to twhirl | twhirl. SocialToo Twitter Preferences. Oneforty the Twitter outfitter. Apps. Tweetwave.com. Seesmic Desktop is (not surprisingly) a desktop Twitter client that allows users to manage multiple Twitter accounts in a single UI.
Features: utilizes Adobe Air environment ability to manage multiple Twitter accounts ability to create groups and lists, and split feeds into columns TwitPic support and video capture via drag and drop search feature allows users to track any topic The Good: Seesmic Desktop is the latest offering from the gang that brought us twhirl. Tweet Manager / Login.
15 Essential Feeds for Freelance Web Designers | Web Designer + Freelance Folder recently posted an open thread asking the question "How Do You Stay Sharp?"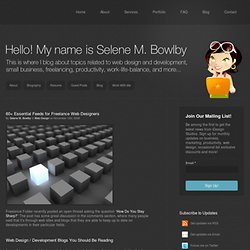 The post has some great discussion in the comments section, where many people said that it's through web sites and blogs that they are able to keep up to date on developments in their particular fields. Web Design / Development Blogs You Should Be Reading I myself have a set of design and development related blogs that I read… whether for the latest xhtml/css and WordPress tricks, for design inspiration, etc. I asked my designer friends on Twitter which sites they thought were the best design blogs to read. You know, the old question "if you were stuck on a desert island and could only have one…" LOL. Feedtweeter. La folie Twitter : 101 liens sur Twitter et + Les outils pour Twitter | Michelle Blanc, M.Sc. commerce électro. C'est via le blogue et les commentaires subséquents de Jeremiah Owyang, que j'ai pris connaissances de plusieurs outils permettant d'augmenter les plaisirs et l'efficacité d'utiliser Twitter.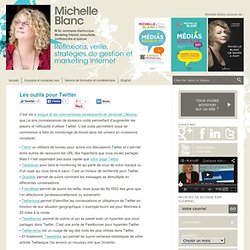 C'est outils permettent aussi de commencer à faire du monitorage de brand dans cet univers en croissance constante. • Twhirl un utilitaire de bureau pour suivre vos discussions Twitter et il permet entre autres de raccourcir les URL des hyperliens que vous voulez partager. Mais il n'est cependant pas aussi rapide que votre page Twitter. • Tweetscan pour faire le monitoring de qui parle de vous de votre marque ou d'un sujet qui vous tiens à cœur. Startup twitter. We've argued in the past that Twitter can be a platform for serious discourse and our own Marshall Kirkpatrick famously stated last year that Twitter is even paying his rent (by which he meant that Twitter had become an invaluable tool in his blogging).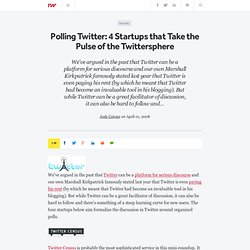 But while Twitter can be a great facilitator of discussion, it can also be hard to follow and there's something of a steep learning curve for new users. The four startups below aim formalize the discussion in Twitter around organized polls. Twitter Census is probably the most sophisticated service in this mini-roundup. It takes advantage of the hashtags concept to track poll responses. T.widgeo.us - all your twitter accounts in one place.
MoMB Labs | Twitter 50.
---