Twitter
My favorite sites using the Twitter API - Veronica Belmont
I've long been a fan of Twitter, and despite the many naysayers it has become an integral part of many peoples web existence. Since Twitter shares their API with developers, it opens up a whole world of mashups and sites that take advantage of the huge network that Twitter is accumulating. This subject has been covered by people before, but I thought it would be fun to share a few of my personal favorites.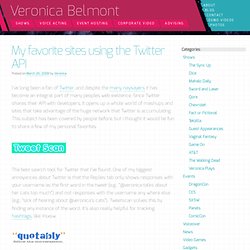 SocialToo Twitter Preferences
Apps
tweetwave.com
Seesmic Desktop is (not surprisingly) a desktop Twitter client that allows users to manage multiple Twitter accounts in a single UI.
Tweet Manager / Login
15 Essential Feeds for Freelance Web Designers | Web Designer +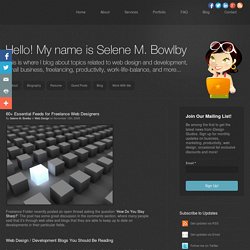 Freelance Folder recently posted an open thread asking the question "How Do You Stay Sharp?" The post has some great discussion in the comments section, where many people said that it's through web sites and blogs that they are able to keep up to date on developments in their particular fields. Web Design / Development Blogs You Should Be Reading
Feedtweeter
La folie Twitter : 101 liens sur Twitter et +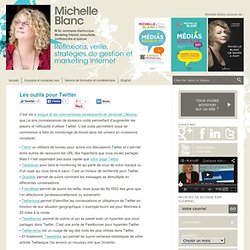 Les outils pour Twitter | Michelle Blanc, M.Sc. commerce électro
C'est via le blogue et les commentaires subséquents de Jeremiah Owyang, que j'ai pris connaissances de plusieurs outils permettant d'augmenter les plaisirs et l'efficacité d'utiliser Twitter. C'est outils permettent aussi de commencer à faire du monitorage de brand dans cet univers en croissance constante.
startup twitter
t.widgeo.us - all your twitter accounts in one place
MoMB Labs | Twitter 50