Mac
Six unexpected uses for the Application Switcher | Business Center | Working Mac. You've probably got the basics of the Application Switcher down pat by now: press Command-Tab to see a bar full of running-application icons and keep Command down as you tap the Tab key to quickly switch to the application of your choice.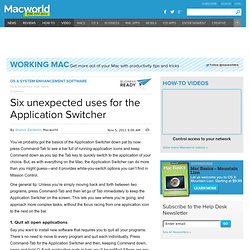 But, as with everything on the Mac, the Application Switcher can do more than you might guess—and it provides while-you-switch options you can't find in Mission Control. One general tip: Unless you're simply moving back and forth between two programs, press Command-Tab and then let go of Tab immediately to keep the Application Switcher on the screen. This lets you see where you're going, and approach more complex tasks, without the focus racing from one application icon to the next on the bar.
Ipod
Trouver facilement un netbook compatible avec Mac OSX Leopard. 22 déc 2008 Posté par Olivier Ruffin dans Insolite Les netbooks ont le vent en poupe mais beaucoup lorgnent aussi du coté du Mac.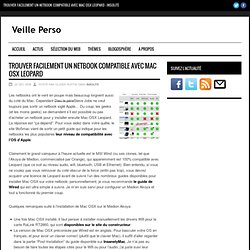 KATI. 6 Apps to Create Free iPhone Ringtones | Sneer Well. Convert your favorite audio file or an mp3 to s?
Here are some handy applications which enable you to create iPhone ringtones from different audio formats MP3, WAV, WMA and MP4 etc., for free. Create Your Own iPhone Ringtones It allows any iPhone user to customize their iphone ringtones. It's a handy ringtone maker solution that does not require any " jailbreak" for your iphone. 20 Websites Every Apple Fan Must Bookmark | MakeUseOf.com.
MacWorld fever has come and gone.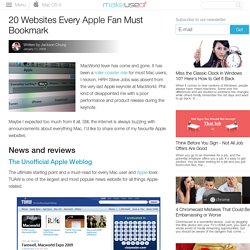 It has been a roller-coaster ride for most Mac users, I reckon. HRH Steve Jobs was absent from the very last Apple keynote at MacWorld. Phil kind of disappointed me with a poor performance and product release during the keynote. Maybe I expected too much from it all. Still, the internet is always buzzing with announcements about everything Mac.
---