facebook
Get flash to fully experience Pearltrees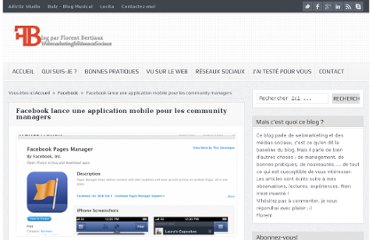 Le géant bleu connaît de mieux en mieux ses utilisateurs. Mais il connaît aussi de plus en plus les attentes des agences qui se servent de sa plateforme. Ce qui lui donne la possibilité de mettre à disposition un certains nombre d'outils qualifiés pour la gestion de l'e-réputation. Le format de la page fan a fait ses preuves et continue de séduire de nouvelles entreprises chaque jour.
The number of users on Facebook in France is now at a value of 22,5 million users which makes it the 8th biggest country on Facebook. Just in the month of May, France gained almost 600 000 users. From the brands currently listed in our database, content which attracted most of their fans was posted by Whiskas , Renault ZE and Playstation – France follow on the 2nd and 3rd place.
Facebook is today launching 'Places Deals' in the UK and Europe. Facebook users will be able to get discounts and special deals in shops, cafes and restaurants by checking in on Facebook Places on their smartphone. We're live broadcasting the press conference above. The Telegraph broke an early story on this this morning.
Facebook et marketing viral : 24 conseils pour booster votre présence commerciale Introduction I. Outils pour les marketers 1. Page profil 2.
Facebook et ciblage publicitaire - comportemental Voir également « Facebook : conditions d'utilisation » Je vous ai fait part samedi de cette page étonnante de Facebook, qui permet de calculer à l'utilisateur près la population qui fréquente le réseau social.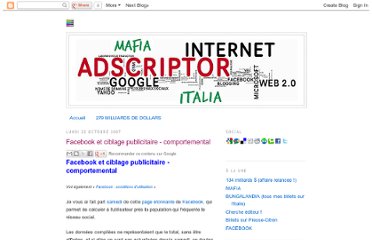 Beaucoup de boulot, beaucoup de retard, beaucoup de mouvements également sur le Net, et une tectonique documentaire qui bouge beaucoup ces derniers temps ... rapidement donc, on sait : que Microsoft vient de gagner un point : c'est officiel depuis hier, toute la blogosphère se perdait en spéculations pour savoir qui de Microsoft ou de Google serait le premier à entrer dans le capital de Facebook, et bien c'est Microsoft. Entrée au capital de la firme de Redmond, à hauteur de 240 millions de dollars, ce qui "valorise" Facebook à hauteur de 15 milliards de dollars (vous ferez vous-même le produit en croix pour savoir à quelle hauteur du capital est entré Microsoft). Cet accord marque également un prolongement et une étendue du contrat publicitaire qui lie les 2 firmes, Microsoft assurant la régie publicitaire de Facebook.
Quel usage professionnel pour Facebook ? Les sites communautaires sont devenus les petits chouchous du Web. Le leader mondial, MySpace, domine largement le paysage "social" et c'est l'endroit incontournable pour tout groupe musical, associations… Pourtant depuis peu il y a un nouveau concurrent qui commence à pointer son nez: Facebook.com. Ce dernier pourrait bien mettre en péril l'hégémonie Myspace, même s'il en est encore très loin: ( voir la carte mondiale des réseaux sociaux) …